Pros:
While the 2014 Nissan Maxima boasts the sophistication of a more expensive sedan, the power of its 3.5L V6 delivers quick acceleration and the lasting euphoria you get from being behind the wheel of a sports car. An advanced sport-tuned suspension and four driver-selectable modes give you great open-road performance without compromising control or ride quality. The spacious interior was crafted with care and features premium materials.
Cons:
A somewhat dated, polarizing exterior, a streamlined model lineup, and a price that borders luxury-car territory certainly don't help the Maxima.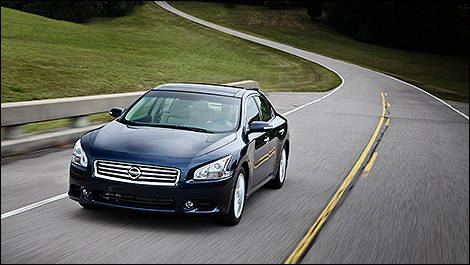 Photo: Nissan
2014 Nissan Maxima Price:
There's just a single trim level on the menu this year, namely the upscale SV at $38,680. It comes standard with leather seats and a heated steering wheel. An incredibly loaded Premium Navigation Package is available for just $3,710 more, while the Sport Navigation Package costs $3,260.
2014 Nissan Maxima Fuel Economy:
The official fuel consumption ratings for the Maxima are 7.7L/100km on the highway and 10.9L/100km in the city.
Improvements and Changes:
The 2014 Nissan Maxima gains some formerly optional features as standard including xenon headlights, a rearview camera, a USB input, and a 7" touchscreen. As you may know, the launch of the new Nissan Sport Sedan Concept means the current Maxima will soon bow out.
2014 Nissan Maxima Powertrain:
The company's venerable 3.5L V6 engine produces 290 horsepower and 261 lb-ft of torque in the Maxima. Believe it or not, a CVT is the only transmission available, here. Paddle shifters are optional.
Cargo Capacity:
The trunk in the Maxima can fit up to 402 litres of cargo, which is below average for a full-size sedan.
Safety:
The 2014 Nissan Maxima comes with six airbags, ABS brakes, brake assist, as well as stability and traction control systems.

Comparing the 2014 Nissan Maxima:
Other large sedans worth considering include the Chevrolet Impala, Chrysler 300, Dodge Charger, Hyundai Genesis, Kia Cadenza, and Toyota Avalon.