2014 Nissan Pathfinder hybrid – Pros and cons*Pros
Seating up to seven people, with a maximum towing capacity of 3,500 lbs, this SUV comes standard with an intelligent all-wheel drive system. Since the engine's batteries are located just under the third row seats, the loading capacity remains the same as the fuel-run Pathfinder. The hybrid's second row seats slide, as well for easy access to the third row.
2014 Nissan Pathfinder hybrid – Price
Nissan has yet to reveal the pricing for its 2014 Pathfinder hybrid. We estimate that the hybrid will cost around $3,000 more than 3.5L V6-equipped, AWD Pathfinder.
Three versions will be offered by the end of the summer of 2013: the SV, SL, and Platinum Premium.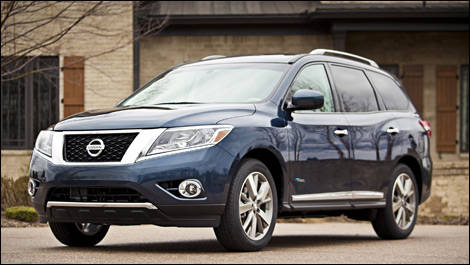 Photo: Nissan
Fuel economy
The combined average fuel ratings for the hybrid are an estimated 7.2L/100km.
Exterior styling
Nissan's Pathfinder hybrid has an aerodynamic style, with deep fenders, a chrome grille and handles, as well as large headlights identical to the 4th generation, gas-powered Pathfinder. In fact, the only difference, style-wise, is the hybrid's LED taillights and a PUREDRIVE badge.
2014 Nissan Pathfinder hybrid – Drivetrain
Under the SUV's hood, you'll find a 2.5L supercharged gas engine as well as a 15 kW electric engine powered by a li-ion battery.
Combined, these engines deliver 250 hp and 243 lb-ft of torque, similar to what the gas engine produces (260 hp and 240 lb-ft of torque).
The engine is coupled with a CVT and Nissan's Intelligent Dual Clutch system.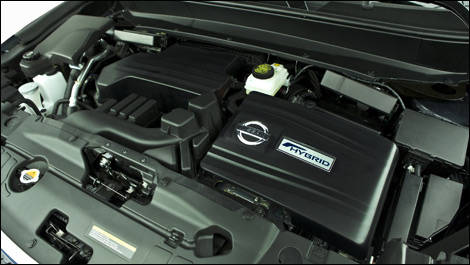 Photo: Nissan
Cargo capacity
The exact cargo capacity available in this Nissan Pathfinder has yet to be revealed.
Safety
The Nissan Pathfinder hybrid is outfitted with a range of active and passive safety, including the LATCH anchor system, brake override technology, and a tire pressure monitoring system.
2014 Nissan Pathfinder hybrid – Comparable models
Other energy efficient alternatives may include the hybrid versions of the
Toyota Highlander
, the
Audi Q5
and the
Lexus RX 450h
.
*References

nissannews.com