Pros:
The 2014 Rolls-Royce Ghost is designed, engineered and crafted in every aspect to enhance the driving experience rather than complicate it. As such, it's considered to be the most driver-oriented Rolls-Royce ever. An ultra-powerful engine lies under the beautiful, long hood, yet the supremely luxurious and comfortable Ghost remains whisper-quiet no matter how hard it's pushed. An extended wheelbase model is available, providing 17 centimetres of extra legroom. BMW-sourced underpinnings make things interesting for the driver, too.
Cons:
This car is slightly less exclusive than Rolls-Royce's higher-end models, but that doesn't mean it's cheap: The Ghost still carries a gigantic price tag. What's more, fuel economy is awful.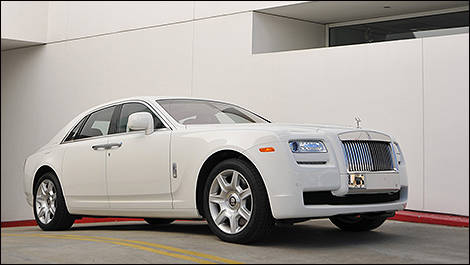 Photo: Rolls-Royce
2014 Rolls-Royce Ghost Price:
Contact your local dealer for detailed pricing.
2014 Rolls-Royce Ghost Fuel Economy:
The official ratings for the Ghost are 17.3L/100km in the city and 10.5L/100km on the highway. In the real world, though, you can expect to burn quite a bit more than that.
Improvements and Changes:
At the 2014 Geneva Auto Show, Rolls-Royce introduced the Ghost Series II -- essentially the same vehicle as the outgoing model, but with a host of minor updates. Styling has been subtly revised, and the sumptuous cabin has been updated with such features as a new infotainment display, rotary controller, and new trim. Let's not forget the new 21'' wheels available.
2014 Rolls-Royce Ghost Powertrain:
Its 6.6L twin-turbo V12 engine is capable of producing 563 horsepower, enough to propel the stately Ghost from 0-100 km/h in a mere 4.9 seconds. While this figure is impressive in its own right, what separates the Ghost from other performance luxury cars is the effortless way it delivers a seemingly endless surge of power, with 575 lb-ft of torque available from as low as 1,500 rpm, through an 8-speed automatic gearbox.
Don't miss:
The new satellite-aided transmission uses GPS data to scan the road ahead and choose the right gear for the upcoming turns. It's a state-of-the-art technology pioneered by parent company BMW.
Safety:
Beyond the full suite of airbags and electronic driving aids, the 2014 Rolls-Royce Ghost features head-up display, plus an infrared camera that can detect the body heat of pedestrians and animals up to 300 metres away.
Comparing the 2014 Rolls-Royce Ghost:
The Bentley Flying Spur is arguably the Ghost's only direct competitor. The Audi A8 L W12 and Mercedes-Benz S 63 AMG are some of the cheaper alternatives.