Pros:
Handling response, steering precision and dynamic stability are top notch here, making the BRZ one of the ultimate driver's cars in its price range. The snarly BOXER engine is a joy to open up and drive with intent, and the overall package is exciting and fast. Fuel mileage is appreciably good, thanks to the modern two-litre engine, too.
Cons:
As a coupe-only design, the BRZ offers tight rear seats and limited headroom which might preclude it from the shopping list of larger drivers. Comparable sports sedan and hatchback models offer added room and utility.
2014 Subaru BRZ Pricing:
2014 Subaru BRZ pricing works thusly: $27,295 opens the bidding for the standard model with manual transmission, while the feature-enhanced BRZ Sport-tech package is priced from $29,295 with keyless access, push-button start, heated seats, fog lamps and more. A full range of accessories is available for customization, too.
2014 Subaru BRZ Fuel Economy:
Depending on the transmission selected, look for fuel economy to range between 5.9 and 6.6 L / 100km during highway cruising and between 8.3 and 9.6 L /100km during city driving. High-octane fuel is required.
Improvements and Changes:
Launched just last year, there are no notable changes for the Subaru BRZ as it enters model-year 2014.
Don't Miss:
The impressive real-world fuel economy. With a variety of fuel-saving engineering implements under the hood, standard 6-speed transmissions and a lightweight and aerodynamic body, the BRZ puts fuel away at a surprisingly low rate in exchange for its pleasing performance. Don't miss standard features like Navigation and HID headlights, either.
2014 Subaru BRZ Powertrain:
The BRZ's engine generates a free-revving and highly-thrifty 200 horsepower thanks to Direct Injection technology and variable cam timing, but that's only half the story. The 'Boxer' engine architecture means the engine is wide and flat, and that it can be mounted low within the BRZ's engine compartment. This translates into an ultra low centre of gravity for exceptional handling response and balance. Ultimately, the new 2-litre 4-cylinder engine gives the BRZ some thrilling acceleration figures—but also helps it handle beautifully, too. All models are rear-wheel drive and come with a 6-speed transmission in the driver's choice of manual or automatic with paddle shifters. Typically found in pricier, more powerful cars as an option, BRZ packs a standard Torsen Limited Slip Differential (LSD) for maximum traction during hard acceleration for added stability and confidence.
Safety:
Proven Subaru safety attributes are all included as standard—including a crash-optimized body structure, advanced antilock brakes, a full array of intelligent airbags and high-strength front seat frames. The BRZ has been recognized as an IIHS Top Safety Pick as well, demonstrating the model's commitment to active safety and crash-impact performance. The 5-mode driver-selectable Vehicle Stability Control system and traction control system allow the driver to tailor the system to respond to outdoor conditions as well as their performance needs. With a special setting for 'snow', traction is actively enhanced, even in the most slippery situations.
Comparables:
The BRZ competes with its twin, the
Scion FR-S
, as well as established compact heavy-hitters like the
VW GTI
and
Honda Civic Si
.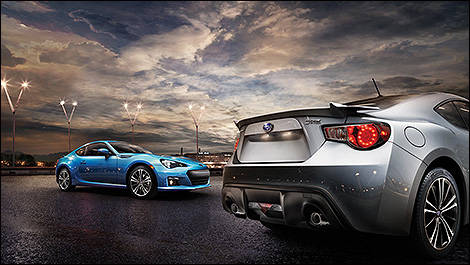 Photo: Subaru
2014 Subaru BRZ