Pros:
The 2014 Volkswagen Beetle will continue to please with a decidedly modern interpretation of an automotive classic, more masculine and rugged looks than its predecessor, a unique character, good ride and handling, as well as a selection of engines and transmissions that make it either frugal or feisty. 

Cons:
The Beetle suffers from above-average prices, cramped rear seats, slow throttle response and disappointing fuel economy from the base engine, not to mention a ''chick car'' label that just won't go away.
2014 Volkswagen Beetle Price:
The lineup consists of five trim levels starting with the Comfortline ($22,675). This one features 16" alloy wheels, a media interface with iPod connectivity, heated front seats, and Bluetooth. Then you have the Comfortline TDI ($24,675), Highline ($25,275), Highline TDI ($27,275), and Sportline ($30,275). Freight and delivery charges are not included.
2014 Volkswagen Beetle Fuel Economy:
Ratings for the 2.5L engine are 7.1L/100km highway and 9.5L/100km city. The acclaimed TDI is the king of efficiency with 5.0L and 7.0L/100km, respectively. As for the most powerful Beetle (TSI), it achieves 6.5L and 9.0L/100km.
Improvements and Changes:
Reflex Silver has been replaced with Toffee Brown as a colour option. The TSI's output is up by 10 horsepower, and the Fender Edition is no longer available. Most importantly, the 2014 Volkswagen Beetle is about to gain a brand new entry-level engine: It's a 1.8L 4-cylinder turbo unit that promises increased performance (+14 lb-ft of torque) and fuel economy (+17%). Let's not forget the
new Beetle GSR
, either.
Powertrain:
The 2.5L inline 5-cylinder engine produces 177 horsepower and 170 lb-ft of torque. The popular 2.0L 4-cylinder turbodiesel engine with direct injection (TDI) is rated at 140 horsepower only, but makes up for it with 236 lb-ft of torque. Meanwhile, the other 2.0L 4-cylinder turbocharged mill (TSI) now generates 210 horsepower.
Transmission choices include 5- and 6-speed manual gearboxes, a 6-speed autobox with Tiptronic mode, and a 6-speed Direct Shift Gearbox (DSG) with Tiptronic mode.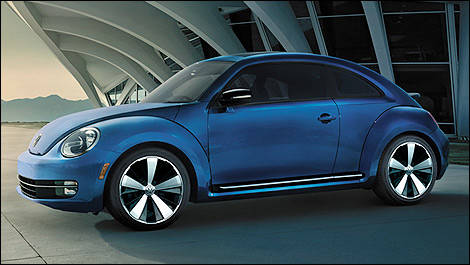 Photo: Volkswagen
Cargo Capacity:
The 2014 Volkswagen Beetle can fit 436 litres of cargo in its trunk.
Safety:
Four airbags, electronic stability and traction control, 4-wheel disc brakes with ABS, and antitheft alarm come standard.
Comparing the 2014 Volkswagen Beetle:
Potential Beetle customers may also want to consider other small coupes and hatchbacks such as the Hyundai Veloster,
MINI Cooper S
, Fiat 500 Abarth, Toyota Matrix, and
Mazda3 Sport
.