General Motors is taking the midsize truck market seriously again. The new 2015 Chevrolet Colorado (and GMC Canyon) will offer improved capability, more mature styling, and a range of gas and diesel engines to suit every need.
Price
No pricing information has been announced, but expect Colorado pricing to start below the Silverado, and hopefully below $20,000.
Fuel Economy
No fuel economy numbers have been announced. Though, with the addition of a 2.8L Duramax I-4 diesel engine, expect it to be best in class.
Improvements and changes
The Chevrolet Colorado is loosely based on the global Chevrolet pickup wearing the same nameplate, but with styling and other changes made specifically for the North American market. Don't think it is just a reengineered, older Colorado previously sold in North America, as the two share nothing in terms of platform.
Exterior styling
Chevrolet's new midsize truck will be available in extended and crew cab models. Extended cab trucks will get a standard 6'2" bed, while crew cab models can be equipped with either 5'2" or 6'2" beds.
Overall proportions are similar to the global Colorado -- available in Australia and Asian markets -- but the North American Colorado tries to blend this size with design from the newly released Chevrolet Silverado.
Interior styling
The Colorado interior layout is influenced even more so by the Silverado. Sitting front and centre will be the latest Chevrolet MyLink infotainment system and associated knobs and buttons. Below that, climate controls are also very similar to those found in the ½-ton truck. However, unlike the Silverado, the Colorado will feature a floor-mounted gear shifter.
Cargo/towing/payload capacity
Official numbers will be available closer to launch (December 2014), but being a newly engineered truck, the Colorado should outperform its competitors -- Toyota Tacoma and Nissan Frontier.
Powertrain
The 2015 Chevrolet Colorado will be available with two engines at launch: a 2.5L DOHC I-4 developing 193 hp and 184 lb-ft of torque along with a 3.6L direct-injected V6 with 302 hp and 270 lb-ft of torque. Both engines will be mated to 6-speed automatic transmissions. Work truck models equipped with the 2.5L engine can be optioned with a 6-speed manual transmission.
Going into its second year of production, the Colorado will be gifted a 2.8L VM Motori-sourced Duramax diesel engine cranking out 200 hp and 368 lb-ft of torque.
Safety
The new Colorado will be equipped with six airbags, available forward collision alert, available lane departure warning, StabiliTrak electronic stability control, and many other features to keep you between the ditches or trees.
Comparables
Toyota Tacoma
,
Nissan Frontier
and
GMC Canyon
(soon to be released)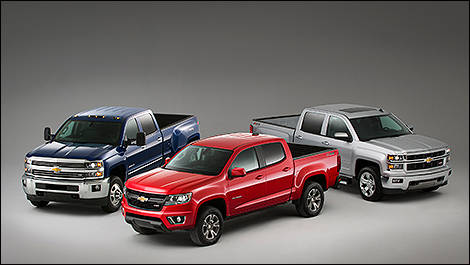 Photo: Chevrolet
2015 Chevrolet Colorado