Pros:
The Scion FR-S, like its clone the Subaru BRZ, is the product of a partnership between Toyota and Subaru. Steady on the road with sharp steering, this great looking two-seater is remarkably easy to handle. Indeed, the car really shines on the track, with enveloping seats and an extremely sensitive suspension. However, the suspension is unforgiving when riding on bad roads, which is the standard in Quebec…
Cons:
At first glance, the interior is a little disappointing. The dashboard is very bare and hard plastic makes up most the finishing. With its extreme behaviour, the sports might be tiresome to drive day-to-day. While the engine's torque shortage translates into sluggish acceleration, the car also lacks overall comfort.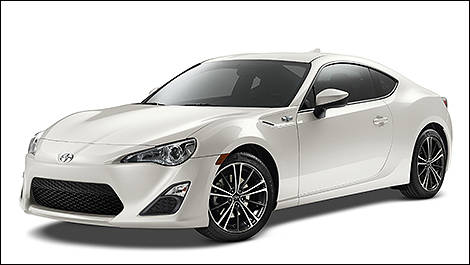 Photo: Scion
2015 Scion FR-S Price:
Only one version of 2015 Scion FR-S is available for $28,590.
Fuel Economy:
At the time this was written, the 2015 Scion FR-S's fuel consumption was not yet rated. However, it can be assumed that the sports car's ratings are comparable to those of the Subaru BRZ: 10.9 L/100 km in the city and 7.9 on the highway for an automatic transmission.
Improvements and changes:
No major changes have been brought to 2015 Scion FR-S.
2015 Scion FR-S Powertrain:
Under the hood, Scion's 2015 FR-S offers a 4-cylinder, 2-litre, naturally aspirated DOHC that generates 200 horsepower and a moderate 151 lb-ft of torque. The engine is mated either with a manual transmission or a 6-speed automatic with paddle shift mode on the steering wheel.
Cargo Capacity:
Since the 2015 Scion FR-S is a sporty two-seater, you can't expect much trunk room. In fact, cargo capacity is barely 196 litres.
Safety:
In terms of safety, the 2015 Scion FR-S boasts ABS brakes, brake assist, electronic brake force distribution, dynamic stability control and traction control as well as smart stop technology.
Comparing the 2015 Scion FR-S:
Other sports cars in this segment include the Honda Civic SI, the Hyundai Genesis coupe and the Subaru BRZ.