The all-new 2018 Chevy Traverse and GMC Terrain made their debut yesterday at the North American International Auto Show in Detroit. The latter is scheduled to arrive on the Canadian market this summer, followed by the Traverse in the fall.
2018 Chevy Traverse
Wrapped in bold and refined styling, the completely redesigned Traverse offers technologies to help keep passengers of all ages and lifestyles comfortable and connected. It will deliver what is expected to be best-in-class third-row legroom, maximum cargo room and passenger volume, plus an enhanced roster of available active safety features.
Chevrolet is adding two new trim levels for the 2018 Traverse—including the sporty, blacked-out RS and the luxurious High Country—to offer customers more choices for a personalized appearance. Look for some extra tech, as well, plus a selection of new engines including a 2.0L turbocharged 4-cylinder and a revised 3.6L V6.
The new Traverse follows the next-generation Trax and Equinox to give Chevrolet one of the freshest SUV/CUV lineups in the entire industry.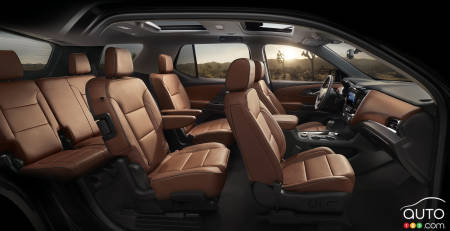 2018 GMC Terrain
A boldly styled and intelligently engineered successor to the brand's popular compact SUV is what the company is promising here. The new Terrain offers greater refinement and versatility to adapt to customers' unique needs, and it's packed with more available advanced safety technologies than ever before.
Interestingly, three all-new turbocharged propulsion systems are available including a new 1.6L turbo-diesel. The 1.5L and 2.0L gas engines are accompanied by two new fuel-saving 9-speed automatic transmissions—a first application for the GMC lineup.
We'll have a First Drive review of both the 2018 Chevy Traverse and 2018 GMC Terrain on this website sometime in the spring, so stay tuned!