The lineup of Chevrolet vehicles continues to improve and diversify. Proof of that is as close as the 2018 Canadian International AutoShow in Toronto. The automaker is presenting there two Canadian premieres focused on power and capability, but which target very different audiences.
Sports car fans will be heading straight for the Chevy stand to check out the new 2019 Chevrolet Corvette ZR1, the fastest Corvette ever devised. According to Jamie Dewhurst, brand manager for Chevrolet Cars in Canada, it will set a new global standard for performance and compel other supercar makers to take it very seriously.
Armed with a 6.2L LT5 supercharged V8 that generates an astounding 755 hp and 715 lb-ft of torque, the ZR1 set a new laptime record for a production car at the Virginia International Raceway, beating out the Ford GT, among others – check out the video here.
The 2019 Corvette ZR1 is set to hit the market this spring; pricing has not yet been announced.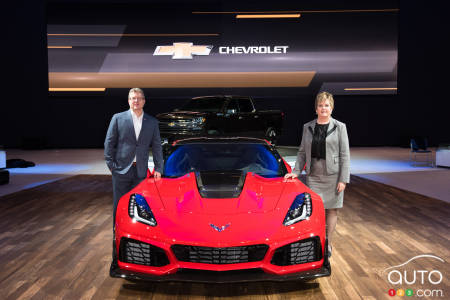 Turning to a whole other market segment, Chevrolet also presented its new 2019 Chevrolet Silverado 1500 for the first time in Canada. This is the latest salvo in the long-running battle Chevy is waging with FCA, which also used the occasion of the 2018 Toronto show to introduce Canadians to its 2019 RAM 1500 Sport.
In addition to being offered in 8 different models, not to mention the wide range of available configurations and options, the Silverado 1500 has upped its game in hopes of prying more pickup owners and buyers away from the competition. At the launch event, Doug Kenzie, brand manager, Chevrolet Trucks in Canada, spoke of the unmatched versatility of the truck's bed, the new edition's reduced weight (it is some 450 lbs lighter than its predecessor) and its all-new available 3.0L Duramax turbo-diesel V6. This engine teams up with a 10-speed automatic transmission to provide an emphatic response to Ford's new 3.0L Power Stroke.
We will of course be reviewing the new Silverado 1500 for you in the coming months. Stay tuned!