The all-new 2019 Chevrolet Silverado was recently unveiled in Texas in front of an enthusiastic gathering of fans and Chevy owners at an event that was part of the year-long centenary celebration of Chevrolet trucks.
Reimagined and redesigned from A to Z, the new Silverado is a crowd-sourced creation of sorts: designers based themselves in part on the suggestions and opinions of over 7,000 consumers and current Silverado owners. Never had the company so thoroughly solicited the advice of its consumers in developing a new model.
The decision was a wise one, given that the 2018 Ford F-150 has once again been upgraded and improved, and that the 2019 Ram 1500 will be getting its own makeover.
"Our owners' passion for Chevrolet trucks is truly humbling. Many of our owners depend on their trucks for work and play, personalize their trucks in astonishing ways and pass their loyalty for Chevy Trucks down from generation to generation."

- Alan Batey, president of GM North America and global head of Chevrolet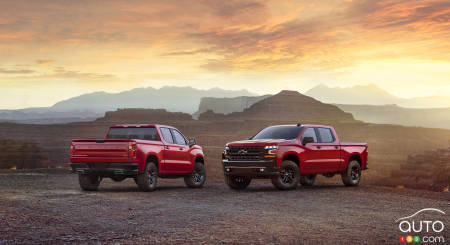 The new design is immediately striking, sculpted in a modern and aggressive register, in some ways inspired by 1950s and 1960s era Chevy trucks. Those trucks, not coincidentally, are among the most coveted vintage truck models for collectors. The front grille, headlights, bumpers, fenders, wheels and tires: all combine to give the 2019 Chevrolet Silverado a more rugged look, infusing it with the feel of a truck ready for any challenge on any terrain.
Chevrolet has promised boosted performance in its new truck, thanks notably to some significant weight reduction efforts. The floor of the truck bed, for example, is lighter as well as being more functional due to the use of higher-grade alloy.
While not providing too much in terms of concrete details, Chevrolet did promise as well that buyers of the 2019 Silverado will be able to choose from a wide range of versions, equipment, packages and engine/transmission combos to create their ideal truck.
The model in these images is in fact a Silverado LT Trailboss, equipped with the Z71 off-road package and a 2-inch suspension lift kit. This suspension was tested and validated by Chevrolet engineers so that it will be covered under the manufacturer's warranty.
The 2019 Chevrolet Silverado will be making its next official appearance at the North American International Auto Show in Detroit this coming January. Until then, feel free to let us know what your first impressions are, and take a moment to check out our photo gallery devoted to the evolution of Chevy trucks over the past century.