The new 2019 Porsche Macan SUV made its hands-on debut this week, and the highlight is the new V6 turbo engine that's powering the Macan S; it was previously seen in the Panamera. The model, which has quickly become the brand's top seller in Canada since its debut in 2014, will hit the market here next summer.
Though the 2019 edition doesn't represent a wholly new generation for the Macan, revisions are widespread and fairly deep, touching on design, comfort, connectivity and of course the vehicle's driving dynamics.
The default engine for the 2019 Macan is still the 2.0L 4-cylinder with turbocharger that delivers 248 hp and 273 lb-ft of torque. The Macan S gets a new 3.0L turbo V6 with an output of 335 hp and 354 lb-ft of torque. The transmission for each engine is a 7-speed dual-clutch automatic unit working with an all-wheel-drive system, which distributes power variably depending on the situation. By default the system is rear-wheel biased, but it can send all power to the back if necessary, and up to 70% to the front.
Of particular note with the new V6 is that peak torque is available as of 1,360 RPM, or 1,000 RPM lower than before.
The base 4-cylinder engine gives the 2019 Macan a 0-100 km/h acceleration time of 6.7 seconds; the V6-equipped S edition cuts that down to 5.1 seconds.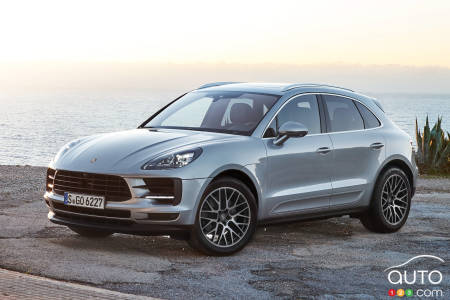 Porsche also sought to improve driving dynamics through the addition of new aluminum components that are more lightweight, as well as an available adaptive suspension system. The drivetrain can be adjusted for off-road driving via a button on the centre console.
Inside, the biggest change involves the integration of a new, bigger 10.9-inch infotainment screen. Apple CarPlay integration is included, as is a built-in navigation system (Android Auto is also present, but without the full range of functionalities).
The 2019 Macan S will arrive in Canada for summer 2019 with prices starting at $63,000 CAD; this price point makes the Macan the most affordable Porsche to be offered on our market.