Yesterday at the 2018 Canadian International AutoShow in Toronto, Subaru Canada announced that its latest and biggest model to date, the three-row 2019 Ascent SUV, which offers seating for up to eight, will start at $35,995 when it goes on sale this summer.
For comparison, the Ford Explorer ($34,899) and Chevrolet Traverse ($35,000) are cheaper, but you have to add $3,000 for AWD in both cases. It's pretty much the same thing with the new Volkswagen Atlas ($35,690, but $39,790 with 4MOTION). The Ascent undercuts the FWD-equipped Toyota Highlander ($36,450) and Mazda CX-9 ($36,200), while the AWD-only Honda Pilot ($40,390) is significantly more expensive. Its 260-horsepower turbo engine may not be one of the most powerful in the segment, but it should rank among the most efficient. Exact fuel consumption ratings have yet to be announced, mind you.
The 2019 Ascent thus stands out from the pack with Subaru's symmetrical full-time all-wheel drive system as standard equipment, but also with standard EyeSight advanced safety technology, Android Auto and Apple CarPlay integration, heated seats and three-zone automatic climate control.
Get more details about the 2019 Subaru Ascent, the world premiere of which took place in Los Angeles last November.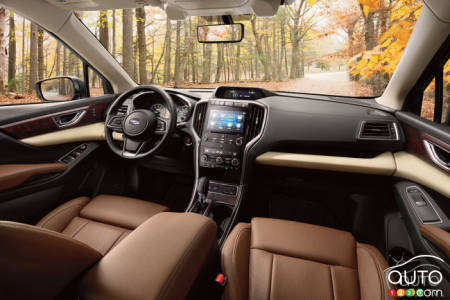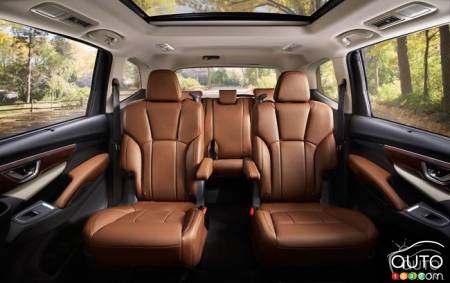 At the 2018 Canadian International AutoShow in Toronto, Subaru also unveiled a new logo to commemorate 40 years of Subaru sales in Canada (10 fewer than in the U.S.). Since 1978, the number of Subaru dealers across the country has grown from seven to 93, and last year the automaker sold 54,570 vehicles for its sixth-consecutive annual sales record.
Visitors at the show can admire a classic 1968 Subaru 360 as well as the new 2018 WRX STI Type RA, a track-tuned, limited-edition model (75 units) based on the WRX STI, and the new 2018 BRZ tS (100 units).