When Japanese automaker Toyota decided to take on the big American brands whose bread and butter is pickups, it probably didn't expect that the response from them would be so aggressive.
Toyota's first attempt to infiltrate that segment was the T-100, a midsize pickup it produced between 1993 and 1998. It followed that up with the Tundra, introduced in 1999. The model's first generation lasted until 2007, when it was redesigned and became the Tundra we know and buy today.
Still awaiting a new version
Since 2007, Toyota has not substantially overhauled its big truck - and it won't for the next model year either. Indications are – notably via viral spy shots published in specialty magazines – that a new generation might arrive for 2021. But for now, it's more of the same. To be fair, the automaker has brought out more elaborate variants of the model, for instance the TRD Pro edition we recently test-drove.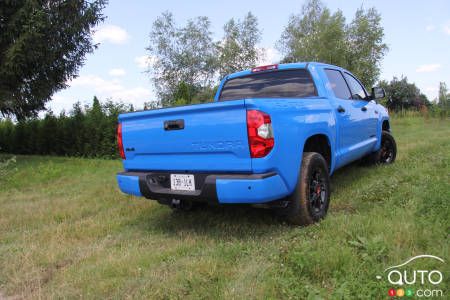 Atypically for the segment, Toyota offers but few versions of its Tundra; the truck can only be had in Double Cab or Crew Max configuration. The Double Cab Tundra can be configured with a 6.5-ft or an 8.1-ft bed, while the Crew Max version comes only with a 5.5-ft bed. The Tundra TRD Pro version is new for 2019.
The precise version we tested is the SR5 Crew Max with four doors and powered by a 5.7L V8 (there's a smaller 4.6L V8 also in the catalogue) working with a 6-speed automatic transmission and on-demand all-wheel drive.
What's in a TRD Pro package
The TRD Pro package, which you can't get combined with the smaller V8 by the way, adds a special suspension with Bilstein shocks for off-roading, 18-inch BBS alloy wheels with all-terrain tires, special main beams under the bumpers and skid plates under both the engine and the gas tank.
To be expected, there are also special colour choices for the TRD Pro, starting with this striking blue colour our tester was decked out in. Also worthy of note is the absence of a footboard or step, which would make climbing aboard easier but could, according to die-hard off-roaders, also affect ground clearance.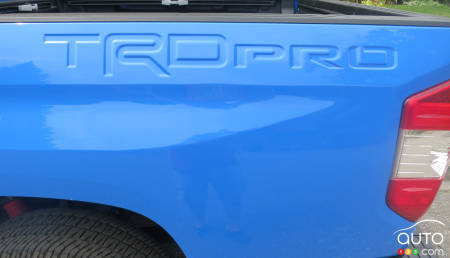 I imagine that in creating the TRD Pro edition, Toyota had in mind to produce a rival to the likes of the Ford Raptor, Ram Rebel, Ford Raptor, Ram Rebel, Chevrolet Trail Boss, GMC AT4 and even the Nissan Titan Pro-4X.
Inside
The interior space of the Tundra has received its share of revisions in recent years, Toyota being well aware of what's been going at American competitors in this regard. For example, the commands for the electric trailer brakes are now given the respect they need and are placed on the dashboard, instead of hanging forlornly underneath it.
Still, much of what's inside the truck is pretty archaic compared to the products the Tundra has to compete with. When starting it up, forget about a push-button start – our truck still required taking an actual key and inserting it into the ignition and turning. The very idea! And actually you don't even need to apply the brake to have the engine start. But hey, to some that might all just seem refreshingly old school.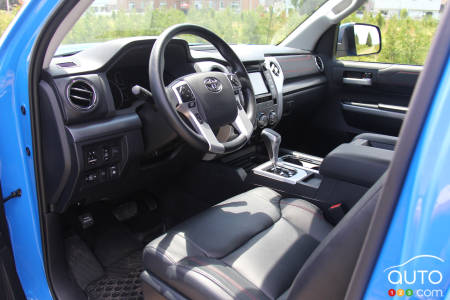 Otherwise, the dashboard does feature some appealing digital instrumentation… but that's it! There's a screen in the centre of the dashboard alright, but it's pretty small compared to what you get elsewhere. That screen provides access to the audio system, backup (and forward) camera and the nav system, which unfortunately is of Toyota's older generation. Here you're better off with your smartphone nav app – except that, there's no Apple CarPlay or Android Auto connectivity.
Sometimes old school is a positive, however: the commands for the climate control are big buttons that are easy to use, even with gloves on. Near to those is a rotating knob for switching between two- and four-wheel drive. What, you say, no automatic all-wheel drive?!? Why, other pickups have it!
In the centre of the console is also the gear shifter, which can be handled manually (the principle of the engine brake is relatively effective since we're dealing with a transmission with only 6 speeds), but there are no paddle shifters on the steering wheel.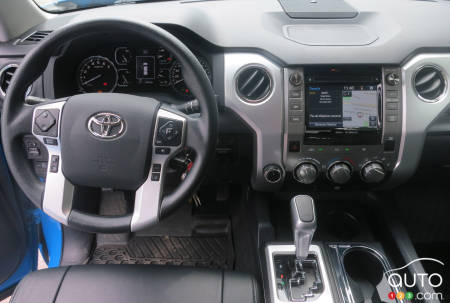 The front seats get TRD stitching and are heated, though not ventilated. The back row, meanwhile, is as vast as you could wish for (and easily accessible via those big back doors). Three adults can fit in there, no problem. Plus the seats lift up to get a flat floor for transporting longer objects and stuff you don't want to leave in the bed.
As well, unlike many competing models that feature a rear window only a small part of which can open, in its centre, the Tundra's window can be fully lowered electrically.
Lastly, the finishing inside the Tundra TRD Pro is exceptional, but it lacks that extra spark that you'll find in Toyota's 1794 edition.
The bed, an all-important element in a pickup, is 5.5 feet in the TRD. This isn't particularly big, but it's a size that feels just right to all of owners. On our tester, the bed had useful anchor points, but nothing to help you climb up! At least, the rear panel can be opened downward, with a retention system that keeps it from falling violently down, and it's easy to lift back up.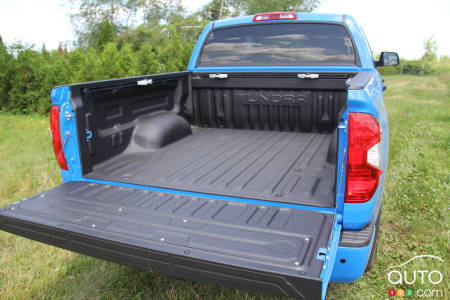 The powertrain
The 5.7L V8 (Made in Alabama, USA) makes 361 hp, sufficient to move around what is an imposing vehicle (itself assembled in Texas). While it's no performance vehicle, the Tundra TRD Pro has a 0-100 km/h acceleration time of around 8 seconds. Not sure why, but Toyota has configured the V8 to be quite loud at the exhaust end, which is kind of fun at first but could quickly wear thin with today's motorists. It's especially audible on acceleration, but it does get a lot quieter at cruising speed.
On the road
The tires on our TRD Pro were Michelin LTX all-seasons, which doesn't necessarily mesh with the image of an "off-road" truck, which is after all the vibe this edition is going for. That said, during a short excursion on a muddy backwoods track, they acquitted themselves well.
We didn't push the envelope too hard in this environment, this despite the special suspension that feels like it can take more abuse. I actually wonder why the average Tundra user would tick off the option on such a suspension if they don't intend to take it regularly off road into extreme conditions. This is a trend started with the Ford Raptor, and it's more relevant in the southwestern United States, where desert trails are commonplace and easily reached.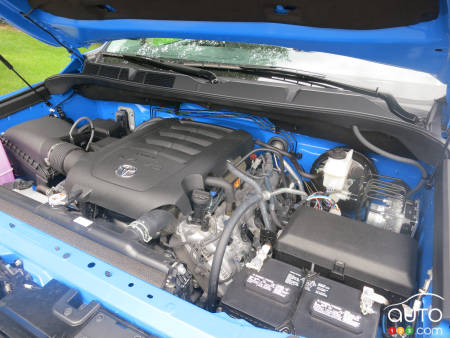 In normal use, the Tundra TRD Pro is also probably not intended for use mainly in urban centres. Its dimensions make it cumbersome and parking it is work (visibility is hindered even more by the enormous air intake on the hood, and the turning radius is pretty large).
The hardest thing to do with the Tundra, however, is climbing aboard it. As mentioned, there's no footboard, and driver and passengers literally have to climb aboard. The rewards for your efforts are great visibility once seated, and an environment that is not inhospitable for longer road trips.
Except that for the driver, the steering is a little limp-wristed and could be more precise. Braking is powerful, but it behooves the driver to remember this is a big vehicle that it might be stressful to stop suddenly. The suspension is firm, but proved less so than I expected.
The load capacity of the Tundra ranges between 645 and 775 kg, and the TRD Pro version has towing capacity of 4,175 kg. Then there's the question of fuel consumption, always a relevant subject when considering a big truck like this. This Tundra TRD Pro with the 5.7L V8 produced an average for me of 15.42L/100 km, attained after more than 500 km of driving in both urban and highway environments, and frankly it was less budget-busting than I'd feared. Of course, I drove with some care so as not to bust that budget any more than I had to!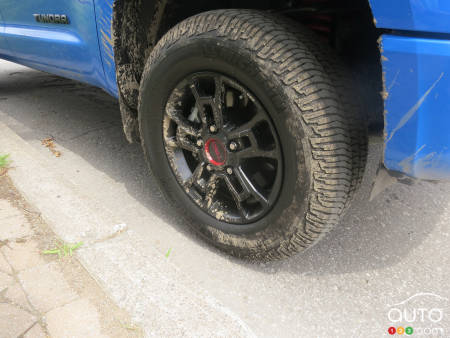 The pricing
And the cost of all this? It should be kept in mind that the Tundra SR5 TRD Pro is not as luxurious a vehicle as the Ford F-150 Limited, for example. Its base price is $46,000, with the TRD Pro Crew Max options package totaling $17,900. Add to that extras like the $100 A/C tax, $27.50 in other various taxes and $1,815 for transport and prep, and you get a final tally of $62,842. And 50 cents.
Conclusion
It's obvious from the moment you encounter the Tundra; this vehicle is aging pretty seriously, especially when you stack it up against rivals. Eventually Toyota will come up with a new version. But in the meantime, this is not actually a bad choice. On the contrary, its sheer ruggedness inspires confidence. If you're not so enamoured of accessories and advanced tech, don't need much in terms of luxury and gadgets, and want a reliable work tool more than you want to show off your sparking new truck, this is probably for you.
We like
The brand's unassaible reputation for reliability
Rugged good looks to go with its rugged performance
Off-road capabilities
We like less
Archaic set of accessories
Very high threshold for getting in
Not very fuel-efficient
The competition
Ford Raptor
Ram Rebel
Ford Raptor
Ram Rebel
Chevrolet Trail Boss
GMC AT4
Nissan Titan Pro-4X