Set to receive its world premiere in Detroit this coming January, the new seventh-generation 2019 Volkswagen Jetta is already the subject of intense interest, especially since some sketches and a few spy photos of the camouflaged car made their way on to the internet.
What can we expect from the new Jetta? First off, it will be based on the MQB platform, which has underpinned recent VW models including the Tiguan and Atlas SUVs. Longer and wider than before, the 2019 Jetta will offer both passengers and luggage more room.
Design-wise, expect no great upheavals from an automaker whose MO in that department tends to the typically German sober approach. The image included here leads us to believe the car's lines will remain more or less intact. On the other hand, the grille, headlights and wheels will sport updated looks with the elegance factor increased.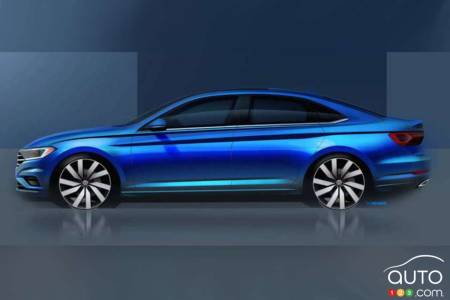 Under the hood, buyers will find the current 1.4L turbo engine developing 150 hp (a stronger 2.0L turbo will power the GLI version to come later on), but the transmissions will be new. The manual gearbox gains a sixth gear and the automatic, two more for a total of eight. It's expected that acceleration will be more sprightly, from a standing start as when passing other vehicles. As well, the engine's stop/start function that will accompany the automatic transmission will improve city-driving fuel efficiency.
Indications are as well that the 2019 Volkswagen Jetta will deliver a more stable, and considerably quieter, ride on the highway, allowing for normal-decibel conversations in the cabin. A high-end Beats Audio system will be available, however, for those who don't appreciate that kind of quietude. Volskwagen/Audi's famous virtual cockpit, featuring a 12.3-inch screen behind the steering wheel, should be another of the available options.
Will the improvements and upgrades be sufficient to propel the new 2019 Jetta past the likes of segment powerhouses like the Honda Civic, Hyundai Elantra and Toyota Corolla? Time will tell! But chances are very good that the Jetta compact sedan will continue as before to offer one of the most pleasant driving experiences available in its class.
While VW lovers everywhere await the launch of the 2019 Jetta, take a moment to read our review of the 2017 Volkswagen Jetta Wolfsburg!