BMW wasn't the most aggressive player at this week's Geneva Motor Show, but the German automaker did produce a few noteworthy presentations. One of them was a new plug-in-hybrid version of its X3 SUV.
The X3 xDrive30e, as it will be known, uses the same arsenal under the hood as the 330e sedan, led by a 2.0L turbo engine assisted by an electric motor, with an 8-speed automatic transmission in charge of power management.
Official output is 252 hp and 310 lb-ft of torque. When in Sport mode, however, the SUV gets an added 41 horses to play with, as long as the battery pack has sufficient energy left in it. Speaking of which, BMW says the fully charged battery will allow for about 50 km of driving in all-electric mode.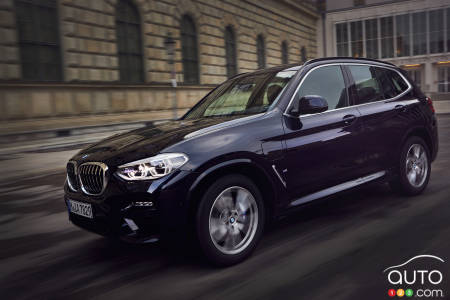 The BMW plug-in hybrid X3 will have a 0-100 km/h acceleration time of 6.5 seconds.
The best news for North American consumers, of course, is that BMW confirms it will bring this version to market over here. Production should begin in December at BMW's American plan in Spartanburg, South Carolina. The first units should start getting delivered early in 2020.
Further off on the horizon, BMW is also planning an all-electric version of the X3.
News worth getting excited about!