After a one-year hiatus, the Porsche Macan Turbo is coming back for 2020, and it will have more horses to play with even with a smaller engine than before. Talk about doing more with less…
Where the old Macan Turbo unit had a displacement of 3.6L, the new engine is a 2.9L, but even so hp climbs by 34, from 400 to 434. To be clear, we're not referring here to the Exclusive variant of the older model that made 440 hp, but to the base model.
As for torque, it remains unchanged at 406 lb-ft.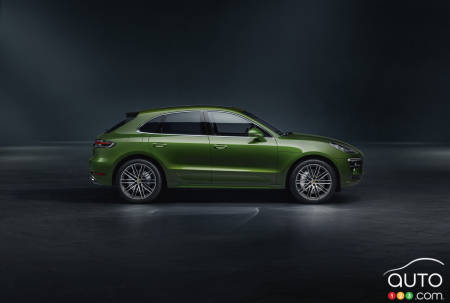 The new base-model Macan Turbo will be able to race to 100 km/h from a stop in 4.3 seconds, making it 0.3 second speedier than the last edition; this is when equipped with the Sport Chrono package.
It's also faster than the old Exclusive could muster with its 440-hp engine (4.4 seconds.
It's likely we'll eventually see an Exclusive version of the new Macan Turbo as well, and of course it's equally likely it will be even more powerful. Porsche is counting on these new variants to push sales of its most popular model to unprecedented new heights.