• Auto123 gets in a first drive of the 2024 Porsche Cayenne E-Hybrid.
Leipzig, Germany - The Porsche Cayenne has been substantially refreshed for the 2024 model-year. As part of that, a new hybrid variant joined the lineup, the S E-Hybrid. We went to Barcelona on October 18 and 19 test drive both it and the Turbo E-Hybrid variant.
See : Porsche Cayenne S E-Hybrid 2024, first drive: A Compromise That Isn't One
See: 2024 Porsche Cayenne Turbo E-Hybrid: A Feast of Power at 729 hp
The following week, we travelled to Leipzig, Germany, to learn more about the future electric Macan (details to come on that one). That also gave us occasion to test drive the entry-level version of the hybrid family, the E-Hybrid.
We were able at the same time to get behind the wheel of a V6-powered Cayenne, to draw some parallels and comparisons.
Of course, test-driving a car in Germany, means driving it on the Autobahn, which, on certain stretches, imposes no speed limits of drivers.
You don't need to be able to drive at top speed to test drive a Kia Forte. But with a Porsche, it's an opportunity to test it in its element. This was to be no traditional test drive then, because driving more than 200 km at a minimum speed of 160 km/h, with several peaks in excess of 200 km/h, changes your perception of a vehicle; it also alters the way you analyze it.
Specifications sheet of the 2024 Porsche Cayenne E-Hybrid
Specifications sheet of the 2024 Porsche Cayenne E-Hybrid coupe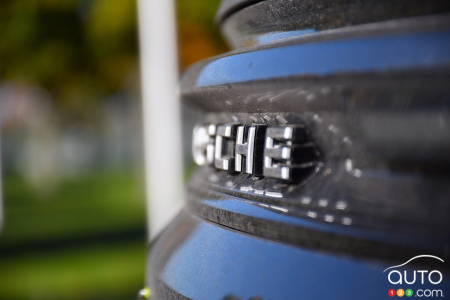 2024 Porsche Cayenne E-Hybrid: What's new?
Porsche says so itself: The update for the 2024 Cayenne is probably the most significant the brand has ever undertaken.
Aesthetically, the front end has been tweaked to give it more character. Quite frankly, it's not the best-looking snout in the industry. Early Cayenne models were more in keeping with the brand's design tradition. At the rear, the signature is much more successful, with three-dimensional lights and a harmonious design. The colour palette has been enhanced with three new hues, while 20-, 21- or 22-inch wheels can be selected.
New LED matrix headlamps (32,000 pixels) have also been introduced, which adjust their illumination according to need. In a construction zone, for example, those lamps will focus on the road in front of you rather than the sides where there's nothing to see. After you've left the zone, the lights once again broaden the area they illuminate.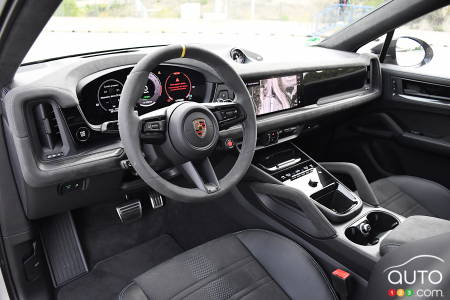 The cabin gets a new air filtration system and, for the first time, front passengers have their own can entertainment screen to play with. The 10.9-inch screen can display navigation information, for example, or play videos. Rest assured, from the driver's position, it's impossible to see anything on this screen.
The biggest change you'll notice when getting is the new dashboard, which features two massive screens. In front of the driver is a highly-configurable 12.6-inch display for all driving-related information. It also respects a Porsche design tradition, with a perimeter that follows the shape of an ellipse. The second, in the centre of the dash, is 12.3 -inches diagonally and houses the functions of the multimedia system, which has been revised and refined for the occasion.
Last but not least, other chassis improvements have been made, notably on models not equipped with air suspension, all to offer greater stability and comfort at low speeds. With air suspension, attention has been paid to ensuring that the differences between the drive modes (Normal, Sport and Sport Plus) are more noticeable.
All of that makes for a much-improved Cayenne.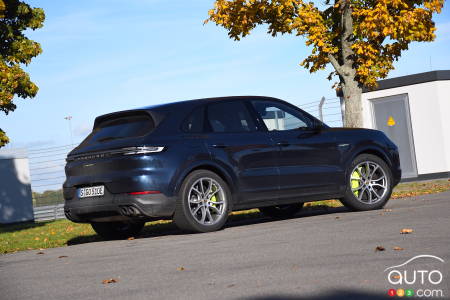 E-Hybrid
As mentioned, three hybrid versions are now on offer with the Cayenne. Power ranges from Very Generous to Very Outrageous. The entry-level model delivers a combined output of 468 hp. The S E-Hybrid and Turbo E-Hybrid models offer 512 and 729 respectively. Those are fantastic numbers and they're also of no use to anyone driving in Canada with its speed limits. The base model offers more than enough pop.
Power comes from a turbocharged 3.0L V6 block that combines its efforts with those of a 174-hp electric motor (so 40 more than before). The battery's capacity has been increased from 17.9 kWh to 25.9 kWh, which means more electric range (almost 70 km, up greatly from the previous 27). And thanks to a new on-board charger with a capacity of 9.6 kW, the vehicle can be recharged in 2.5 hours.
All this, from $89,800, represents the most logical solution for buyers in Canada. You get great electric range, power coming out of your ears and the essentials of what the Cayenne 2024 has to offer. If you must, add a few options like air suspension, and you're done. The other hybrid variants offer more, but will you really be able to make the most of it, other than for the sheer pleasure of acceleration?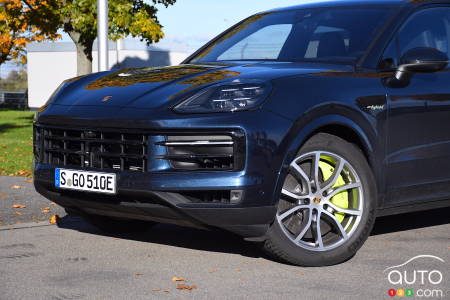 A test drive at 225 km/h
If I were in a position to buy this vehicle, and I lived in Germany, the most powerful version would certainly be in my sights. I had the opportunity to drive it on a circuit in Spain, and the experience was quite exhilarating. The acceleration thrust is insane.
But you can live very well with the basic variant, which is the model we drove to the limit on the Autobahn. In fact, I was able to drive over 200 km at full throttle; 50 with the V6 petrol model, the rest with the hybrid version. Aside from the never-gets-boring impressiveness of the acceleration response, what impresses most is high-speed stability. At 160 km/h, the experience is comparable to what we experience here at 100 km/h. At 180 km/h, imagine what you'd normally feel at 120 km/h. At 200, the effect of the wind begins to be felt, but it doesn't really get worse until 230 km/h.
One thing you need to watch for as your speed climbs is the tunnel vision effect. Everything comes faster and everything seems narrower ahead.
When it's time to brake, the car's balance is just as amazing and appreciable. You don't slam on the brakes at 190 km/h, but even with moderate pressure applied, the Cayenne keeps its trajectory. Quick accelerations, even when you're already at 160 or 180 km/h, are equally impressive. Because yes, when you're going 175 km/h and the lane suddenly opens up in front of you, you're putting the hammer down for the sheer pleasure of it... and because you're allowed to.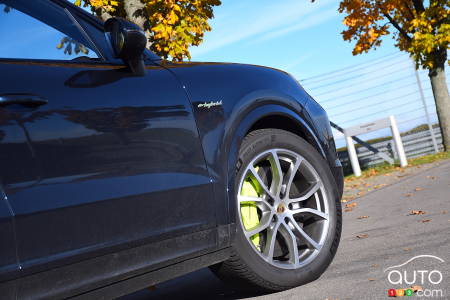 The discipline of German drivers
There are those – many – who argue that speed limits should be raised in Canada. While this is conceivable on certain low-traffic highways, the truth is that drivers here are not trained to drive faster. Above all, they don't have the self-discipline to do so.
In all my years on the road in Germany, I've never been held up a driver in the left-hand lane. Vehicle ahead of you see you coming and promptly pull over, always with the blinker on. When approaching right-lane traffic, there's no fear of someone pulling into your lane at the last minute; drivers are aware of what's going on in the left-hand lane. As a driver, you're alert on a highway like this. At one point, I was going 175 km/h when I saw a dot appear in my rear-view mirror, and closing. I accelerated and pulled over to the right to let a BMW M8 pass. It was easily going 250 km/h.
When the limit drops to 120, 100 or 80 km/h, near towns, exits or generally in areas where traffic is heavier, people respect the limits. Because they can let loose elsewhere. The idea here is not to make a case for speed, but to observe how it is managed elsewhere. It's quite fascinating.
One last thing. It's amazing how concentrated you are when you're driving faster, and on roads where the limits often change from one road segment to the next. It keeps you on your toes, and it's certainly a far cry from that sleepy 110 km/h ride on cruise control between Montreal and Toronto, say.
An experience to be had, ideally aboard a German product... like a Porsche Cayenne.
Prices for the 2024 Porsche Cayenne E-Hybrid
- Cayenne E-Hybrid: $104,800
- Cayenne E-Hybrid coupe version: $109,400