• The all-electric range of the Alfa Romeo Tonale PHEV 2024 is set at 53 km.
• The Tonale, recall, is the upscale cousin of the Dodge Hornet, which was launched a few weeks ago.
• The model offers more range than the Lincoln Corsair PHEV, but less than the Lexus NX 450h+.
We were recently in Detroit to test-drive the new Tonale SUV from Alfa Romeo. On that day, the electric range of the PHEV version was announced at around 50 km, but official figures were still to come.
Today, the Italian automaker (part of the Stellantis group) announced that official EPA testing results show a total range in all-electric mode of 53 km.
"We are happy to announce the official EPA electric range of 33 miles and 77 MPGe for the Alfa Romeo Tonale, which will allow many of our customers to drive their daily commutes without tapping the fuel tank," said Larry Dominique, SVP, Head of Alfa Romeo North America. "The Alfa Romeo Tonale represents the beginning of our transformation to greater electrification while staying true to the performance characteristics our customers expect from the brand, including a best-in-class 285 horsepower."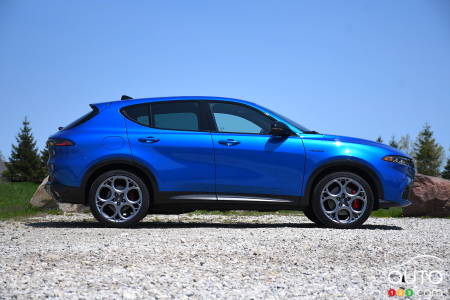 The 53 km range places the 2024 Tonale between the 2023 Lincoln Corsair PHEV (45 km) and the 2023 Lexus NX 450h+ (61 km). In terms of brute power, the model also falls between the two, with the respective power outputs of the other models at 266 hp for the Lincoln and 302 hp for the Lexus.
However, when it comes to performance, the Tonale is ahead of its main rivals. In the 0-100 km/h sweepstakes, Alfa Romeo's new SUV clocked 6.0 seconds. That's compared to 7.0 seconds for the Lincoln and just over 6.0 seconds for the Lexus.