Tesla last night presented the refreshed 2024 Model 3 electric sedan for Europe. The EV benefits from some welcome aesthetic refreshes. The face is more elegant, Tesla promises an interior with improved soundproofing and higher-end noble materials, and the technology on offer has been enhanced.
At the front, the slimmer design of the headlamps is noticeable, as is the presence of a sleeker bumper without foglamps. At the rear, the lights have been redesigned with bright LED accents. The wheels have also been redesigned.
You'll still easily recognize the Model 3, because the changes aren't major. But they're enough to easily distinguish a 2024 version from all those offered before.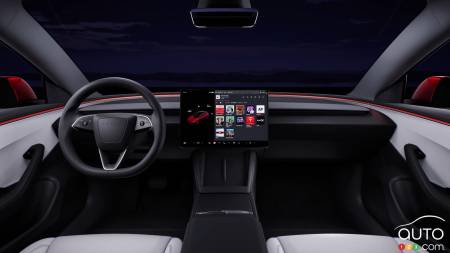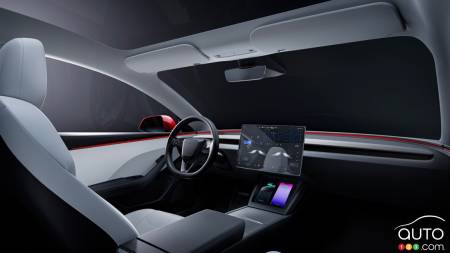 The interior of the 2024 Tesla Model 3
Here, the changes are more significant. The dashboard has been redesigned and now includes integrated mood lighting, air vents extending across the width of the cabin and a new steering wheel that no longer relies on arms for turn signals and transmission. The quality of materials has also been enhanced. Last but not least, improved insulation materials should enhance the driving experience.
The centre console features two plates for wireless charging of cellular devices. The audio system gains three speakers, bringing the total to 17. Heated and ventilated seats are standard on this European version of the model.
In the rear, occupants will be able to enjoy a new 8-inch screen on the backside of the centre console. This unit will enable passengers to control the climate and entertainment systems from their seats. And yes, it will be possible to watch movies on this screen.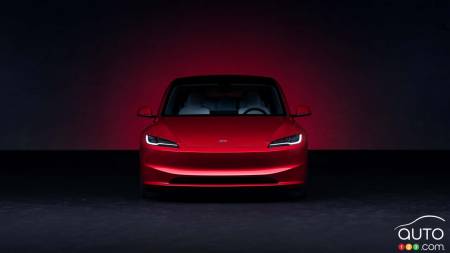 Note that the changes should be the same for the models reserved for North America. All details to be confirmed, however.
On Tesla's European website, rear-wheel drive and all-wheel drive variants appear, but the Performance variant is currently absent. Range data is unchanged, but once again, let's wait and see what happens to the North American versions.
As you'd expect, the bulk of the changes concern aesthetics and presentation. The North American version is expected to be unveiled before the end of the year.