The 2024 Toyota Prius Prime, the 2023 version of which had been updated from top to bottom, predictably undergoes no changes for the coming year. Except, it has to be said, for the price. The base price of the sleek little plug-in hybrid model is set at $39,500, or $1,510 more than last year.
For that (or more), the Prius Prime will once again deliver impressive fuel efficiency, with a claimed combined fuel consumption of 1.8 Le/100 km and an electric range of 72 km. The battery takes around 4 hours to fully recharge.
See also: 2023 Toyota Prius Prime First Drive: From Ugly Duckling to Swan
Canadian consumers can choose between three versions: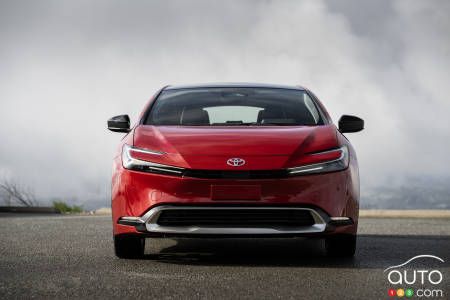 The 2024 Toyota Prius Prime is powered by a hybrid system comprising a 150-hp 2.0L gasoline engine twinned with a 161-hp electric motor-generator, the two providing a combined output of 220 hp.
Secondly, its enhanced lithium-ion traction battery provides an electric range of up to 72 km between charges. If the battery is empty, the car switches to gasoline-electric hybrid mode.
In terms of design, with the 2024 Prius Prime it's not just about sleek good looks - the aerodynamics are a selling point as well. Th car has a drag coefficient of just 0.27. The car's architecture, based on the Toyota New Global Architecture-C (TNGA-C) platform, and the position of the high-voltage battery under the rear seat, contribute to a low centre of gravity, promoting a stable, comfortable ride.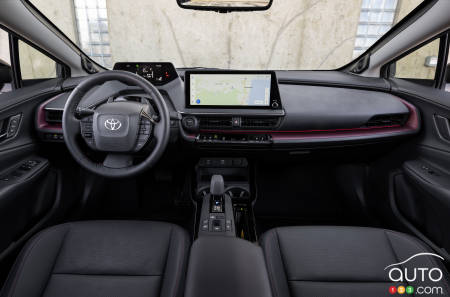 The interior can accommodate up to five adults, with an array of technologies at the driver's beck and call. Toyota's multimedia system is compatible with Apple CarPlay and Android Auto. It includes Toyota Safety Sense 3 and other features such as blind-spot monitor, forward cross-traffic alert and lane-change assist.
The different versions of the 2024 Prius Prime 2024 offer additional features, such as a premium JBL audio system, power tailgate, panoramic view monitor and advanced parking system on the XSE Premium version, providing a range of options to meet consumers' needs and preferences.
The 2024 Toyota Prius Prime is now available from Toyota dealers across Canada.