Porsche is marking its 70th anniversary this year; the company first brought forth the 356 "No. 1" Roadster' in June 1948, and it has been wowing performance lovers ever since. This year, the 2018 Geneva International Motor Show is the setting for a couple of innovative, cutting-edge products from the company that has long been associated with maverick thinking and innovation.
First off, the world premiere of the Porsche 911 GT3 RS. With an output of 520 hp, the newest 911 is the most powerful road-ready performance car propelled by a naturally aspirated engine ever produced. Car geeks will be glad to learn that the performance of the GT3 RS engine has been enhanced by a new running-gear setup that incorporates rear-axle steering designed to maximize driving dynamics and precision. For everyone, numbers like 0-100 km/h acceleration in 3.2 seconds are what stand out. This newest road-approved GT sports model is the third produced by Porsche in the past year, following the launch of the 911 GT3 and the 911 GT2 RS – which was itself the world's fastest production car with a naturally aspirated engine, at least until the new GT3 came along!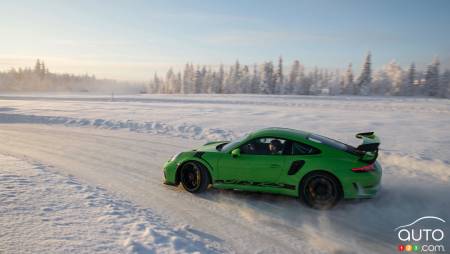 New Porsche Utility Concept
Porsche also used the occasion of the Geneva show to reveal its brand-new, futuristic Cross Utility Vehicle (CUV) concept, called the Mission E Cross Turismo. This all-electric vehicle concept study can be charged sufficiently to drive for 100 km in just 8 minutes, has 0-100 km/h acceleration time of under 3.5 seconds, and has a top speed of 250 km/h. The utility aspect comes into play in its adaptable interior that enables transporting everything from family to bikes to surfboards.
Prominent design elements of the new concept include a low-cut bonnet set between curved wings, front vertical air curtains, narrow three-dimensional elements in the daytime running lights, rugged wheel arches increased ground clearance designed for off-roading and a front spoiler. Adaptive air suspension helps make the ride over just about any surface as smooth as on a well-paved highway.
The all-electric, four-wheel-drive powertrain of the four-door, four-seat concept has a total output of 600 hp (440 kW). The road-ready Mission E Cross Turismo represents a follow-up to the Mission E study Porsche first unveiled back in 2015 at the International Motor Show (IAA); it incorporates elements that are close to production-viable.