Bentley is approaching its 100 years of existence and the series of centenary celebrations that will accompany the milestone in 2019. In a new interview with British automotive website Autocar, the new head of the luxury automaker, Adrian Hallmark, talked about the vision of the company moving forward, and its desire to steer clear of entering the sports car fray.
That doesn't mean the company hasn't been changing to adapt to the times, far from it. Last year saw the introduction of the first electrified vehicle to carry the Bentley badge, The Bentayga, a V6-equipped hybrid SUV. And the company has indicated it wants to produce an electrified version of every Bentley model as of 2025. It has also stated its intent to produce high-performance and ultra-luxurious variants to capture more of the super-high-end market.
"High net worth individuals"
Conceding that Bentley may have been slow off the mark in developing electrified luxury vehicles to meet market demand in places like China, Hallmark says he plans to focus on increasing the number of units the brand sells (currently at 11,000 per year), by attracting more interest from what is known in common industry parlance as "high net worth individuals", or those for whom Mercedes-Benz, BMW, Jaguar and Porsche vehicles are considered almost bargain-basement, if that's possible. In his Autocar interview, Hallmark cited Credit Suisse research that pegs the number of these potential super-rich car buyers around 18 million globally.
No sports cars
"I won't talk about our decisions on future models, but I'll tell you what we won't be building, and that's sports cars."

- Adrian Hallmark, Bentley CEO
The newly installed CEO is of the opinion that that sports car segment is vulnerable when recessions hit, much like the high-end luxury market itself. But the executive noted that after the latest recession, sports car never quite recovered. In addition to which, buyers in the segment are slowly skewing older in terms of their demographics.
In contrast, the generation of new millionaires in China are largely in their 30s and 40s, Hallmark pointed out, and they prefer SUVs or limousines to sports models.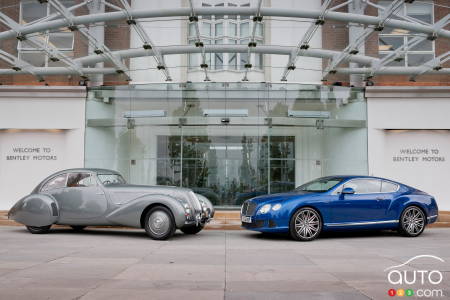 Hybrid vehicles
On this front, Adrian Hallmark is quite open about crediting Porsche, his former employer by the way, with having mastered the trick of making its hybrid models attractive and in-demand with consumers.
"Some brands – I don't want to keep mentioning Porsche, but the Panamera is an example – have been able to position their hybrids as the best version of a model to own. Fun and efficient at the same time. They've cracked the code. We need to do it, too."

- Adrian Hallmark
The success of the Bentayga SUV has shown that a company like Bentley can innovate and be successful, even as it nears its centenary.