Model:
2009 to 2014 Acura TSX
Vehicle Type:
Sport Sedan
The Verdict:
The TSX seems affected mainly by issues that'll be easy to diagnose on a test-drive, and seems pleasantly free of major driveline and suspension-related problems. If the brakes, clutch and electronics on the model you're considering check out, the TSX is a model that can be bought with relative confidence where fuel mileage, sporty handling and an upscale driving experience are priorities.
Pricing:
A used Acura TSX will relieve shoppers of anywhere from $12,000 to $36,000, depending on year, mileage, engine, condition and included options. Selection is rich around $20,000.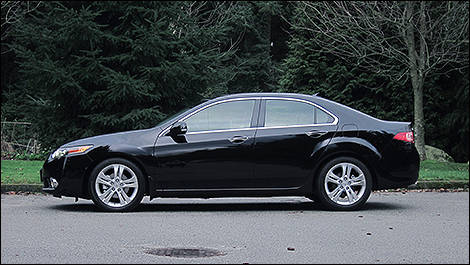 Photo: Rob Rothwell
History/Description:
With four or six-cylinder power, manual or automatic transmissions and numerous option packages, Acura expanded the TSX lineup to ensure there was a model just right for most needs and budgets. All variants of this Japanese luxury sports sedan were front-wheel drive, packed room for 4 adults (five in a pinch) and came with Acura's promise of safety, reliable performance, high resale value, and owner satisfaction.
Look for Bluetooth connectivity, premium audio system options, xenon lights, automatic climate control, heated leather and navigation. When you compare the used TSX to its competitors in the market, consider the
Cadillac CTS
,
BMW 3-Series
and
Audi A4
.
A Premium Package added up-level lighting provisions, a premium stereo, memory seating and more. A Technology Package, further, added the navigation system, full multimedia connectivity, a backup camera and the like.
The TSX V6, not surprisingly, was powered by an available 3.5L V6, which launched for model-year 2010 and came solely with a paddle-shift automatic. Output from this up-level engine was rated at 280 horsepower, while standard models were motivated by a 2.4L four-cylinder with a tick over 200 horsepower. This engine came with automatic or six-speed manual transmissions.
A TSX A-Spec added a sporty-looking body kit for a more street-smart look.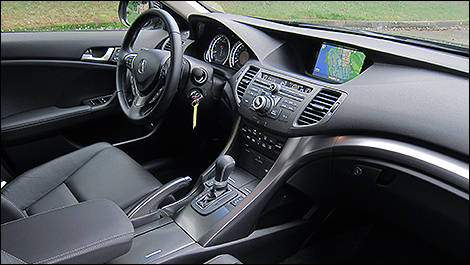 Photo: Rob Rothwell
What Owners Like:
Seems like the TSX got shoppers into the showroom with its promise of safety and long-term value, with some sporty driving dynamics helping to seal the deal. Owners report feeling 'safe', and most rate the performance, even with the four-cylinder engine, positively. The feature-to-dollar ratio, say TSX owners online, is also favorable. The sporty handling and suspension are rated highly as well.
What Owners Dislike:
Common gripes include 'boring' styling and the perceived lack of high-end pedigree one might find in a comparable European model, and the lack of available AWD. Further, some drivers wish for higher performance for the up-level audio system.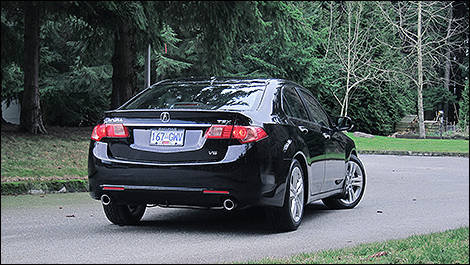 Photo: Rob Rothwell
Common Issues:
Though the lifespan of brake system components is largely dictated by driving habits and locale, shoppers are advised to check their condition on the TSX they're considering, as owners have reported premature brake wear somewhat frequently.
A loud clunking noise when coming to a stop, or when just taking off, could be the result of an issue with the TSX's front-end, possibly relating to a ball-joint or strut assembly. Note that any other popping, clunking or grinding sounds or sensations typically indicate a suspension problem of some sort. If in doubt, have a mechanic complete a check of the suspension.
Electronics checks should include the remote key fobs, ensuring the trunk release works properly, all interior illumination, and the memory seating function. Be sure to check that both headlights are functional, as burned-out xenon bulbs can be relatively pricey. Be sure the audio system isn't suffering from any blown speakers, and that it'll link via Bluetooth to your phone, as outlined in the owner's manual.
On models with a manual transmission, be double sure that the clutch is biting hard and not worn down. Though somewhat rare, and dependent on driver skill and habits, there is some discussion of clutch failure at low miles within the TSX owner's community.
Driving at highway speed, 'feel' the TSX you're considering for signs of vibration from the front of the car, possibly through the steering wheel. If you note any, an out-of-balance driveshaft might be the culprit.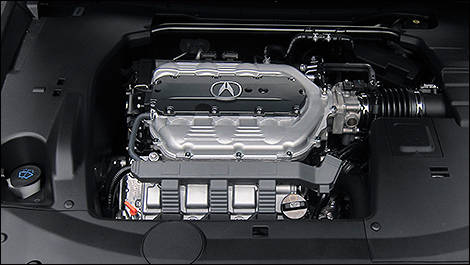 Photo: Rob Rothwell