*This article doesn't include information about the 2014 BMW ActiveHybrid 3.


Highlights
The popular BMW 3 Series returns for 2014 in three different body styles: sedan, Gran Turismo (5-door hatchback), and Touring (wagon). The coupe has been replaced by the all-new 4 Series. Innovative storage solutions, an Eco Pro mode, and a diesel option are some of the key upgrades for the new model year.
Pricing
At $35,990, the BMW 320i sedan represents the entry point to the 2014 3 Series; add $4,000 for all-wheel drive. Meanwhile, the Touring starts at $47,850, and the Gran Turismo is slightly more expensive at $48,990.
New for 2014
Obviously, the biggest news for 2014 is the reintroduction of a diesel engine to the North American 3 Series lineup, which we've not seen since the fifth generation '09 335d sedan.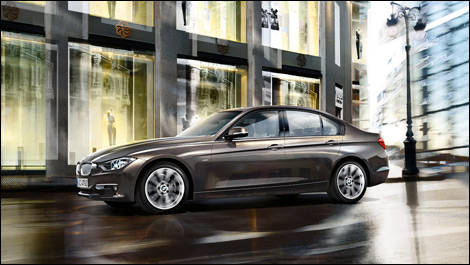 Photo: BMW.ca
Fuel consumption
Four-cylinder models average between 7.4-7.9L/100km. When opting for the 6-cylinder engine, expect fuel consumption to increase to a little more than 8.5L/100 km.
The most efficient 3 Series in 2014 will be the diesel-powered 328d, which burns a mere 5.6L/100km on the highway.
Styling
The 2014 BMW 3 Series displays the same levels of refinement and build quality as its predecessors. No matter the body style, the familiar sporty looks will help it stand out from the competition.
Powertrain
The new BMW 320i uses a 2.0L 4-cylinder turbocharged engine that produces 181 horsepower and 200 lb-ft of torque, while the 328i boosts these numbers to 241 horsepower and 255 lb-ft with essentially the same engine.
The 328d makes the most of a diesel-powered, 2.0L 4-pot that's rated at 181 horsepower and 280 lb-ft of torque. Last, but not least, is the 335i with a 3.0L 6-cylinder engine producing 300 horsepower and as many torques.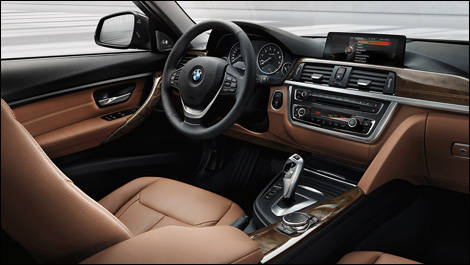 Photo: BMW.ca
Rear-wheel drive is standard and AWD optional on all models except the 328d, which is only available with BMW's xDrive system.
As for transmissions, 320i, 328i and 335i models offer both a 6-speed manual and an 8-speed automatic, while their AWD variants and the 328d exclusively rely on the latter.
Cargo capacity
The 2014 BMW 3 Series sedan and Touring still boast 480 and 495 litres of cargo space, respectively. The new Gran Turismo can swallow up to 520 litres.
Competitors
Acura TSX, Audi A4, Cadillac ATS, Infiniti G37/Q50, Lexus IS, Mercedes-Benz C-Class, Volvo S60.