High-class premium sport sedan tickling your fancy? Considering something used? Don't want to spend an arm and a leg repairing or maintaining your next new-to-you ride? If so, be sure to check out the first-generation
Acura TSX
.
2004 Acura TSX (Photo: Acura)
Effectively a re-badged European-spec
Honda Accord
, the popular model's first generation was available to Canadian shoppers from 2004 to 2008 inclusive.
Though it intended to battle the likes of the
Audi A4
, BMW 3-Series and Lexus IS, the Acura TSX's shopping process was a comparatively simpler endeavor. Aside from coming loaded and offering few options, the TSX's powertrain came in only one configuration which saw a four-cylinder engine driving the front wheels. Said four-cylinder was a free-revving 2.4 litre VTEC unit with around 200 horsepower that required premium fuel.
A six-speed manual or five-speed automatic transmission were available. If you're looking for a six-cylinder engine or All Wheel Drive, you'll have to look elsewhere.
TSX's features included a sunroof, heated electric leather seats, a Bluetooth phone interface, driver computer, navigation, automatic climate control and plenty more. Full power accessories, premium interior trim and high-end audio systems were also on board.
Owners taking to the internet with stories report that they've enjoyed great fuel mileage, a slick-shifting manual transmission, a great ride and handling balance, and plenty of feature content for their money. Exterior styling and a high-tech cabin atmosphere round out the package.
Owner-stated complaints typically centre around noises. Many owners say they expected less wind and road noise from their TSX at speed, and others complain of frustrating rattles and squeaks from the dash and door panels as the car ages. Finally, many drivers note that the TSX is far from a drag-race monster-- since its engine needs to be revved good and hard before VTEC engages a performance-enhancing power boost. The TSX's engine performs best when spinning fast, and low-RPM acceleration will prove modest at best.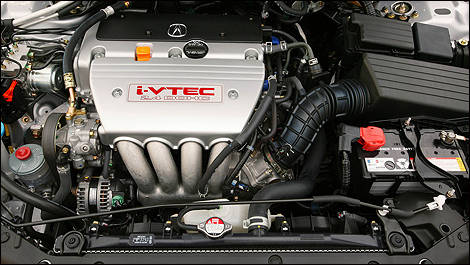 2005 Acura TSX (Photo: Acura)