• The 2024 Acura ZDX makes its official entrance.
It's Pebble Beach Concours d'Elegance week, which is increasingly an occasion for automakers show off new concepts and production models. Acura was there this time aorund to present the 2024 ZDX, the brand's first all-electric vehicle.
This was the EV's first in-the-flesh appearance, although earlier sketches had given us a good idea what to expect. We also knew that the SUV is the gentrified cousin of the Honda Prologue, itself a close relative of General Motors (GM) in terms of electrification, as the structure of the ZDX is GM's Ultium platform.
Nevertheless, we now have the ZDX in front of us, as well as a number of technical details shared by Acura.
First, the model will be available in two configurations: A-Spec and Type S. Both are very similar, the main difference being the size of the wheels: 20 inches for the A-Spec and 22 inches for the Type S. The tires on the latter model are also 10 mm wider, at 275 mm.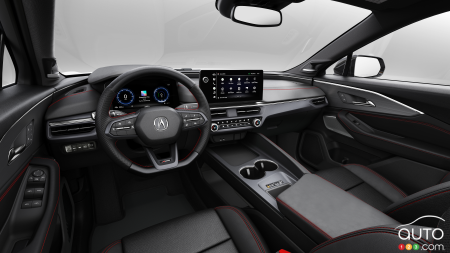 Unlike the Precision Concept that preceded it, the production ZDX has an interior that, at first glance at least, belies its GM origins. The dashboard is low, with slim air vents and two screens that serve as a digital instrument cluster and for the multimedia system. They are 11.0 and 11.5 inches, respectively. Note that the two screens are separate, not grouped as they are in some vehicles, including some of GM's richer products. The steering wheel and climate controls are borrowed from the Chevrolet Blazer EV, which is rather amusing when you think about it.
The styling, however, remains very Acura. And other elements will serve to differentiate the model from GM products. For example, Android Auto and Apple CarPlay will be available, because unlike GM, Acura hasn't abandoned them. These will be wirelessly connected. Another interesting note: a Bang & Olufsen sound system with 18 speakers is standard.
On a more technical note, let's mention that the A-Spec variant will offer a rear-wheel-drive configuration, which will also be found on the Cadillac Lyriq. It will be equipped with a single rear engine offering 340 horsepower. It will be available with a twin-engine approach and all-wheel drive.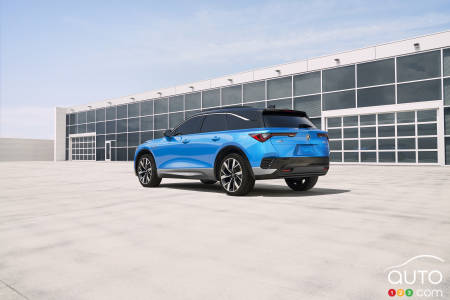 With the Type S model, performance is the name of the game. It will benefit from two electric motors transmitting 500 hp to all four wheels (like the Cadillac Lyriq). The suspension is replaced by height-adjustable air springs and adaptive shock absorbers. Wheels and tires are, of course, larger and wider, and the front brakes feature 15.6-inch discs (up from 12.6) and 6-piston Brembo calipers. Rear brakes remain unchanged at 13.5 inches.
Each ZDX will have a 102-kWh battery and an integrated 190 kW charger for fast charging. Of course, range will vary depending on the variant chosen. A rear-wheel drive A-Spec model will offer 523 km, while the all-wheel-drive version will suggest 507 km. With the ZDX Type S, we'll have to make do with upwards of 464 km (288 miles announced).
The 2024 Acura ZDX will go on sale later this year. We'll be back with details on Canadian equipment and pricing.