HAMILTON, ON
– Day three of
AJAC's Brighton to London Eco-Run
began in the hallowed, ivy-covered halls of McMaster University with a compelling speech by Dr. Ali Emadi – the world's foremost expert on hybrid and electric powertrain technology.
Over the last hundred years, he said, the IT industry, which basically started with Bell Telephone, has gone through multiple paradigm shifts, and yet, the transportation industry is fundamentally the same. The main problems are energy sources that are unsustainable, unreliable and unefficient. Dr. Emadi suggested that one solution could be a smart grid power storage – a sort of internet for energy.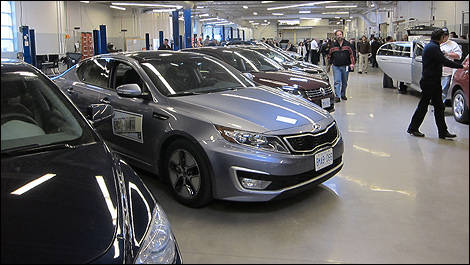 Photo: Lesley Wimbush
The previous day we'd stopped at Evergreen Brickworks in Toronto, a green oasis only 15 minutes from downtown. While the electric cars had a chance to replenish their stores using the facility's own charging stations, we were given a tour of the historic 40-acre site that "helped build the skyline of Toronto".
The century-old brickworks produced up to 40 million bricks a year until its 1983 closure. Purchased by a developer, it very nearly became home to almost 800 condos, until being declared historically significant, and expropriated by the city. Now, thousands of urban kids, some without backyards, visit the site – and through hands-on agricultural and ecological experience – learn to care about the environment and our impact upon it.
We receive a rousing welcome in Woodstock, where they'd closed off a side street to host a press conference with charging stations for our EVs. Woodstock's mayor was particularly gratified to see the three participating Toyota vehicles, given Toyota's importance as one of their major employers.
Over 75.8 km of some of the prettiest rural roads imaginable, I'd managed to achieve 5.5L/100km in a five-speed Fiat. There were many stops in the small villages we passed through, each of which took its toll on fuel economy.
For the final leg, I was assigned the Mazda3 SKYACTIV. Curiously, given that the primary feature of the Mazda's new powertrain suite is fuel efficiency – there was no fuel computer.
Finally, we arrived at our final destination of Fanshawe College's Centre for Applied Transportation Technologies in London, where we were waved by checkered flag into a vast automotive hall. We were greeted by a large crowd of students, faculty members and local politicians – who praised the event and the awareness it brought to the importance of driver education and the impact our habits have on fuel economy.
For the duration of the run, we were accompanied by Yves Madore of Natural Resources Canada (NRCan). At the closing ceremony, he said that while 70% of the participants managed to meet the Energuide ratings on the first day, by the end of the run, every single vehicle had met or exceeded those ratings.
Each leg presented a different challenge: rain, rush-hour traffic, hills – all of which deeply affected fuel consumption. In a comparison test NRCan had conducted between identical vehicles on identical routes, the driver who followed the conservative driving tips saved 25% more fuel over the one who just followed traffic.
We came away with an appreciation of the driver's responsibility in working with technology to save fuel.
Judging from the positive reception in the various communities visited, the Eco-Run, a brand-new venture for AJAC, was a success – suggesting that similar events may be held in other locations across Canada.