The 2019 Vancouver International Auto Show is on now, and one of the sendoffs for the event was the announcement of the Automobile Journalists Association of Canada (AJAC)'s choices for Green Car of the Year and Green Utility of the Year.
You can read here about AJAC's choice for best eco-friendly SUV, the all-electric Jaguar I-PACE. But which car was deemed 2019's top choice according to AJAC's jury of automotive journalists? The top-selling electric car in the world, the Nissan LEAF. The all-electric car beat out a pair of Hondas, the Insight and the Clarity; the finalists had been named in February at the Toronto auto show.
"It's important for many Canadian drivers to be environmentally aware, and AJAC's Green Vehicle of the Year awards help them to make the responsible choice when it's time to buy a new car or utility vehicle. If they can save money on fuel while also driving a vehicle with low emissions – or no emissions at all – then everybody wins."

- Mark Richardson, President of AJAC
Our review of the 2019 Nissan LEAF
See our Guide to all-electric vehicles in Canada in 2019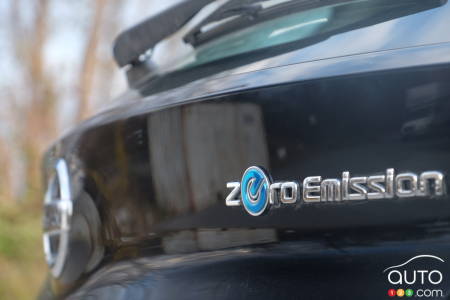 The Nissan LEAF has been just as popular here in Canada as it's been in other markets, and continues to be a reference in the segment. But in 2019 the model faces some stiffer competition, notably from the new Kona Electric and of course the wee Chevrolet Bolt, which both benefit from a substantially longer range (415 km for the former, 383 km for the latter) on a full charge. The LEAF has a range of 241 km.
In response, Nissan has produced an extended-range version called the LEAF PLUS (363 km of range) that is just coming on the market now. It will be interesting to see if the boost in range is enough to keep consumers on board with this model, which does a have a ton of other qualities going for it – a fact confirmed by the AJAC jury.
Another factor the LEAF has going for it? Its starting price of $36,398 makes it eligible for the new EV rebate program just announced by the Canadian federal government as part of its new election-year budget. That program, yet to be implemented, will set a price limit of $45,000 CAD for eligibility for the EV rebate. That makes the much-talked new Kona Electric (starting price of $45,599) ineligible.
If and when the new EV rebate program is up and running, that should give the LEAF quite a leg up on the increasingly stiff competition it faces.