While it's not scheduled to go on sale before 2016, the Bentley EXP 9 F concept has already generated 2,000 pre-orders. The company even plans to make a plug-in hybrid variant of its first-ever SUV.
The original prototype has gone through testing in South Africa and will begin winter testing in Northern Europe in April. Volkswagen took care of the design, both inside and out, but sources claim the production model will be less boxy and more "Bentley-like" than the EXP 9 F concept.
As for a possible plug-in hybrid, it should be ready for 2017, with an estimated EV range of 32-40 kilometres. While technical specs remain an obvious mystery, look for a large and potent engine ― in typical Bentley fashion ― to supply motivation.
Source : autocar.co.uk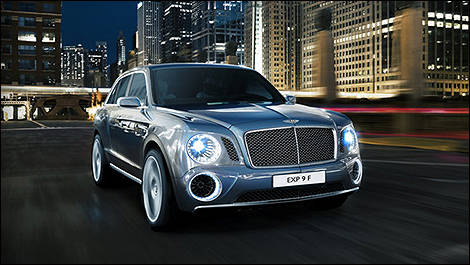 Photo: Bentley