It was bound to happen — technology has progressed to the point where, if you've got the dough, at least one premium car maker will let you have hand in designing your own car. Aston Martin is launching Q by Aston Martin, a service that takes advance of the marque's VH (Vertical Horizontal — yes, it sounds like an oxymoron to us too) Architecture, which allows a "fast, flexible and modular" approach to engineering. (Nifty, although "modular" is a word most up-market brands try to stay away from.)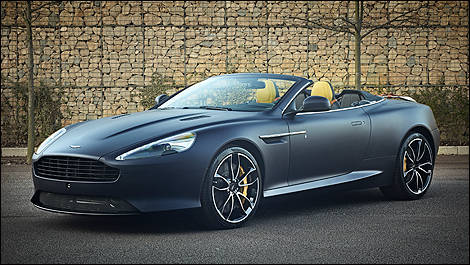 Photo: Aston Martin
With Q, you can actually commission the design and manufacture of your own unique Aston Martin, whether that means matching the interior/exterior colour scheme of your yacht, complementing the architecture of your mansion, or blinging out your car to match your bedazzled BlackBerry.
Aston Martin is presenting the Virage Volante in Geneva, a one-off show car personalized to demonstrate the possibilities, with bespoke Mariana Blue satin paint, blue carbon fibre interior, saddle leather floormats, yellow detailing, heater-mounted track-day HD video camera and forged, diamond-turned wheel.
The cost? Let's just say if you have to ask, you can't afford it.