We met with Derrick Walker, IndyCar President, Operations & Competition, during our stay at Circuit of the Americas in Austin, Texas last weekend to talk about the sensitive issue of driver safety in the IndyCar series.
Last May, Hulman and Company Chief Executive Officer, Mark Miles, and Walker announced the intent to see Arie Luyendyk's four-lap (236.986 mph) and one-lap (237.498 mph) qualification records surpassed.
"The goal is to challenge those speed records during the 100th running of the Indianapolis 500 in 2016," said the IMS press release.
Following Dario Franchitti's crash in Houston that ended his career, and Dan Wheldon's tragic crash on the Las Vegas oval in 2011, we thought it was kind of a strange idea to yet again increase the speed of Indy cars.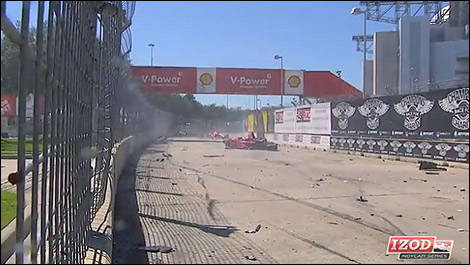 Dario Franchitti's crash in Houston. (Caption: IZOD IndyCar)
"First of all, there is no mandate to make the car go faster," Walker told us in the F1 paddock.
"The cars will go quicker just because of engine development. We have not been mandating it in terms of speeds we should be reaching. We can estimate it or predict what it might be. No, we have not been asked to increase the speeds of the cars," Walker added.
Following these frightening crashes, something needed to be done.
"We are looking at some changes for safety, which may impact speed. As soon as we're 100% certain that it's the right thing to do, we'll implement them as quickly as we can -- maybe 2014, maybe 2015. We're always looking for improvements in safety," Walker explained.
"Motorsport has always been dangerous. We're talking about race cars that go fast. In Dario's case, the car did its job. He survived. He was injured, but he survived. The fencing is an approved fence by the FIA. I don't think they've seen a crash just like that. So, there will be improvements implemented for that kind of fencing, I'm very certain of that," the former IndyCar team owner said to Auto123.com.
We also asked what areas of the car need to be improved?
"I would say that there are three main areas that we're focused on right now. We need to finish that research before we decide the right thing to do. That's why I will not tell you what sections we're looking at. The thing you can't do is make changes, then compromise and make it worse," Walker declared.
"What we need to do with experienced and knowledgeable people is quietly look at the options and understand how to make the sport safer. It is a process that all racing series of that level should be doing. We are certainly no exception. Driver safety and track safety are considerations for us. We work hand-in-hand with the FIA. They have a huge amount to knowledge in this area, so we lean on their guidance and recommendations. There's a lot to be done and very little time. We're going as quickly as we can," Walker concluded.