The new
Audi Q5 TDI
emphasized the presence of the German manufacturer at the Los Angeles Auto Show. A compact crossover, the Q5 will hit dealerships equipped with a 240-hp V6 TDI engine that's already proven itself.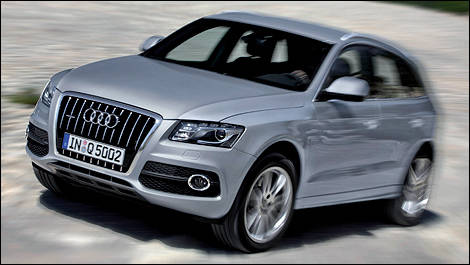 2009 Audi Q5
It's small, but with styling modeled off the larger
Q7
, the Q5 also features the quattro all-wheel-drive system. The TDI version will join its gas-powered brother in the brand's catalogue.
But Audi isn't finished. The manufacturer is offering its sporty 2010 S4 for the very first time in North America, as well as its prestigious sibling, the 2009 A6, both presented last September in Paris. While the latter benefits from a 300-hp V6, the sportier S4 sees its power output changed thanks to a supercharged engine that now allows for a 333-head stable.
Available as an automatic version by mid-year, the S4 will boast a 6-speed automatic transmission and Audi's version of the dual clutch.
In both cases, Audi says it has reworked the steering system for increased precision and speed. And, joy of joys, even though they're based on a well known drive train, both new models unveiled in Los Angeles are following the trend and reducing their
fuel consumption
by more the 15%.
2010 Audi S4
photo:
Audi