Audi, the new king of diesel!
German luxury automaker Audi has been mastering diesel technology for quite a long time. In fact, the four-ring brand has sold TDI models for the last 40 years or so, albeit essentially in Europe. In recent years, Audi wrote its name in the history books by winning the 24 Hours of Mans with a diesel-powered supercar.
But the R10 TDI did more than that, literally crushing every opponent in its path, not only across the pond but also right here in the American Le Mans Series (ALMS). All the expertise gained from racing does not go to waste, as Audi decided to carry over several track-proven technologies and components to its production vehicles. One of them, of course, is the TDI system, which can now be found in many VW-Audi models. Early in 2009, a new generation will make its debut, this time with a 3.0L V6 engine delivering outstanding power and performance while meeting the most stringent emission standards on the planet.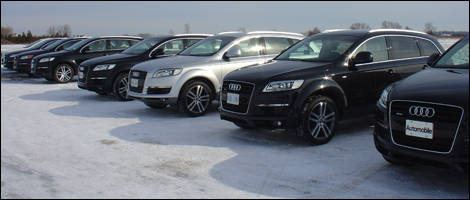 Aesthetically similar, it is under the hood that the differences are notable.
A more efficient Q7
To introduce this new technology, the manufacturer called on the
Q7
full-size crossover, the many strengths of which do not include fuel efficiency. However, with the new 3.0L TDI powertrain, the big Audi is able to achieve a surprisingly good fuel economy rating of under 9.5 L/100 km while still delivering 0-100 accelerations in about 8.4 seconds.
Thusly equipped, the Q7's output amounts to 221 horsepower from 1,750 to 2,750 rpm, while torque is a remarkable 406 lb-ft. As a result, the
Q7
proves to be extremely agile, flexible and efficient on the road.
How did Audi engineers pull this off? They rebuilt the V6 to drop its weight to only 226 kilos and reduce its length to 440 millimeters (17.3 inches). But the real tour de force was combining a common-rail direct injection system with variable turbine geometry (VTG) to ensure maximum low-end power and improved combustion of every single drop of fuel. The icing on the cake is a 30-percent increase in fuel efficiency, allowing for a range of 950 kilometers.
The cleanest of them all
Surely, it can't possibly get any better than that? Well, guess again. Audi's new system, which is set to hit the market in 2009, relies on a chemical solution called AdBlue to make the TDI V6 the world's cleanest diesel engine.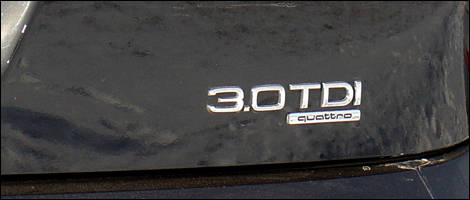 Audi's engineers spent a lot of time to refine this diesel powertrain.