It's obvious that BMW wants to demonstrate its mastery of green technology and is taking full advantage of the Los Angeles Auto Show to do so. Not only has the German manufacturer officially released pricing on its diesel vehicles destined for North America (the Canadian prices will be revealed in a few days), but it has also taken the opportunity to lift the veil on several new technologies, some of which, like the
Mini E
, are already almost reality.
Mini E
Only 500 of the little electric machine will be produced, reserved exclusively for our neighbours down south. But the Auto123.com team still managed to take it for a spin, and our review will be available shortly.
The Mini E is equipped lithium-ion batteries installed directly on the back seat. The electric engine offers 204 hp and a 240-km operating range. It promises reasonable acceleration, going for 0 to 100 km/h in 8.5 seconds.
But the electric car is not the only avenue BMW is exploring: the manufacturer has also unveiled prototype versions of its X6 and its luxurious 7 Series sedan featuring the
Active Hybrid
system. The car is equipped with a 20-hp electric engine designed in collaboration with Mercedes and coupled with a 4.4-litre V8 generating 407 hp. The X6's engine is slightly less generous.
In both cases, the definition of hybrid seems to be a bit wide, as the electric mill only serves as a backup engine, even if the vehicles also have energy recovery systems specific to hybrids.
The new full-size
7 Series sedan
, presented at the Paris show earlier in the fall, has also been unveiled in North America. Bursting with technological innovations, this luxurious sedan namely features the first active steering system as well as a night vision system, front and rear cameras and a lightly updated look.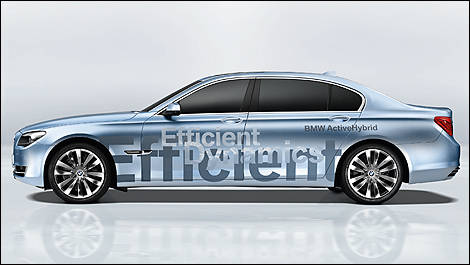 Active Hybrid Series 7
photo:
BMW