Model:
Audi Q7 : Used
Vehicle Type:
Luxury SUV
The Verdict
: Like most luxury crossover SUVs, the Audi Q7 will appeal more strongly to shoppers after looks, pedigree, and a world-class driving experience than those after low running costs and total sensibility. Shoppers are advised to make the checks listed below, seeking out a Q7 from an Audi dealer's Certified Pre-Owned (CPO) program for maximum confidence where possible.
Price:
Shoppers after a Q7 should have no trouble locating an older, high-mileage unit for under $18,000, with newer, low-mileage units or demonstrators pushing well into the $70,000 range or higher.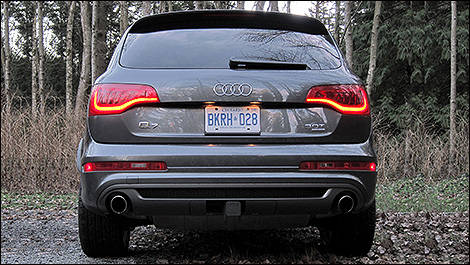 Photo: Rpb Rothwell
History/Description:
Audi's shot at the
BMW X5
,
Mercedes ML
, and comparable luxury crossover models is called the Q7. Launched for model-year 2007, this long-lived model packed standard Quattro AWD technology and a lengthy list of creature comforts, connectivity technologies and world-class luxury features including premium audio, climate controlled seats, a panoramic moonroof, voice-command, navigation, a full multimedia interface, push-button start, and more.
Engine choices initially consisted of a 3.6L V6 or a 4.2L V8, though a smaller, supercharged V6 and TDI Clean Diesel V6 hit the options roster later in the Q7's life. All models were automatic, and various trim grades, options, and packages provided plenty of opportunity for customization. For instance, the S-Line package dialed up the Q7's sportiness with exclusive visual and chassis upgrades, and the "premium" package featured a collection of upscale equipment bundled together at an attractive price.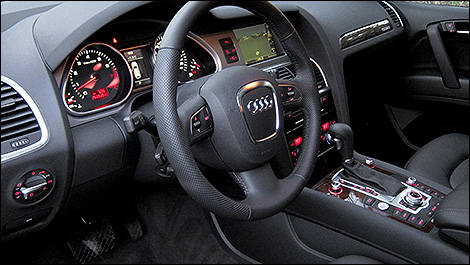 Photo: Rpb Rothwell
What Owners Like:
Q7 owners rave about wintertime traction, a fantastic ride (thanks to the available adaptive suspension system), and feeling fully "backed up" when road conditions are at their worst. The up-level audio system and the overall high-quality look and feel throughout the Q7 are highly rated, too. Performance from the V8 and supercharged V6 engines are common praise points. In all, the Q7 seems to be a much-loved model when it comes to delivering a confident and luxurious crossover driving experience.
What Owners Dislike:
Complaints include the initial learning curve to the MMI central command interface, the lengthy wheelbase that can make parking a challenge, and the fuel consumption on some models.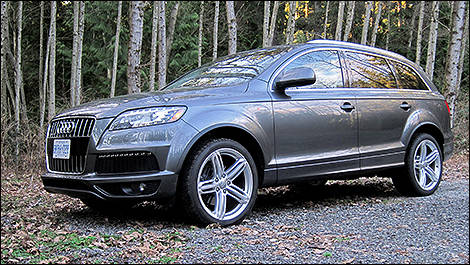 Photo: Rpb Rothwell
Taking The Used Audi Q7 For A Test Drive :
Start your test drive by confirming proper operation of all on-board electronics. Some owners, especially those who don't drive their Q7 on a daily basis, say that various systems can get "fussy" when the battery voltage drops after a few days of sitting. Consider a trickle charger for your new-to-you Q7 if you won't be driving it often.
On models with the 3.6L V6, be sure to have the computer system scanned for any stored trouble codes related to engine misfire, which is somewhat common and likely caused by a faulty injector or ignition coil. Be sure to "feel'" this engine's performance on a test drive at light, moderate, and full throttle and note any signs of "missing" or "hesitation" as well.
Have the underside of the used Audi Q7 you're considering checked by a mechanic for signs of oil leaks, worn-out suspension components, and worn-out brakes for maximum peace of mind. A full brake-job at an Audi dealer is very pricey according to Q7 owners, so be sure the seller isn't trying to stick you with the bill for worn-out brakes.
On models with the panoramic moonroof, be sure to thoroughly inspect the cabin carpeting in both front footwells for signs of moisture, odor or mildew that could indicate a leak. A leaky moonroof in the Q7 could cause water to seep onto electrical connectors and fuse panels, leading to a world of problems.
Other checks should include proper operation of the tailgate, the MMI system, the Bluetooth, and the parking radar system, if equipped. If possible, avoid used models with the air suspension system, which can be pricey to repair if and when it wears out.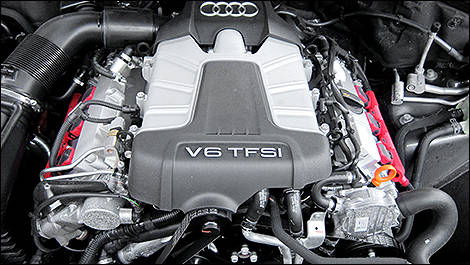 Photo: Rob Rothwell
2013 Audi Q7