According to British magazine Car
, Audi has just obtained exclusive rights to negotiate the eventual purchase of Italian motorcycle manufacturer Ducati.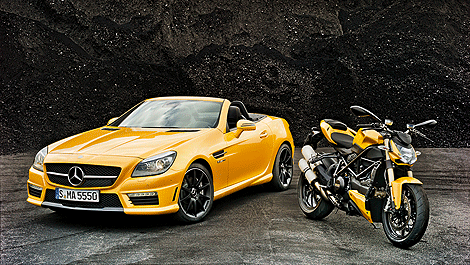 Photomontage: Auto123.com
Audi now has until mid-April to finalize its offer to buy Ducati, and
Car
's sources say the purchase price will be $1.1 billion CDN, only slightly more than the bike maker's liabilities. A prestigious motorcycle brand has been in the Volkswagen Group's plans for a while, and Ducati, heavily in debt and up for sale, would fit perfectly in their plans.
Other manufacturers interested in Ducati include India's Mahindra and Hero, and Daimler, who has recently swung some cross-brand promotions including the recent
2013 Mercedes-Benz SLK 55 AMG and Ducati Streetfighter 848 collaboration
.