Audi's new Audi SQ5, RS3, TT RS and R8 Spyder models are all making their Canadian debuts during the 2017 Canadian International AutoShow, which opens this week in Toronto.
The SQ5 is based on the new-generation 2018 Audi Q5, and it comes with a 453hp engine delivering 347 lb-ft of torque and wedded to an 8-speed Tiptronic automatic transmission. Outside, eye-catching LED light clusters, optional 21" alloy wheels and distinctive fenders and rear spoiler, not to mention a number of "S" touches both outside and in, set the SQ5 squarely apart from the crowd.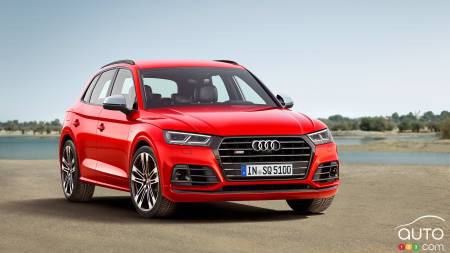 Even more explosive than the A3 and the S3, the new RS3 features outsized air intakes and exhaust pipes. Equipped with a 2.5L turbo-compressed 5-cylinder engine generating 400 hp, as well as a 7-speed S tronic dual-clutch transmission, this little speedster can get up to 100 km/h from a stop in just 4.1 seconds.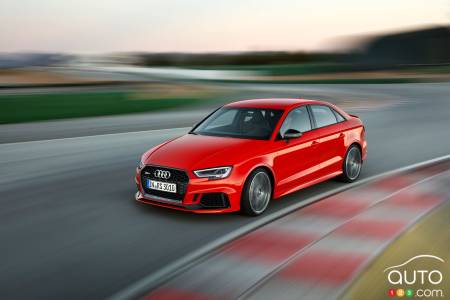 More inclined to go for a coupe? The 2017 Audi TT RS offers you the same powertrain, packaged in a highly sexy outer robe. Lighter than before, it can do the 0-to-100 km/h in only 3.7 seconds, according to data provided by the manufacturer.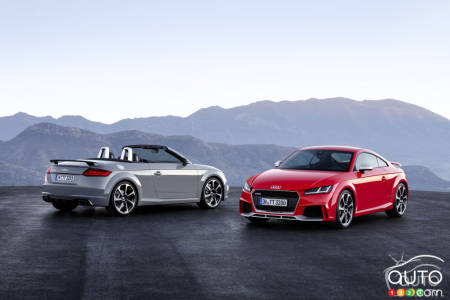 The new 2017 Audi R8 V10 Spyder, meanwhile, carries the same naturally aspirated engine as the R8 coupe (delivering 540 hp and 398 lb-ft of torque). It can sprint from 0-100 km/h in a mere 3.6 seconds, and tops out at a 318 km/h maximum speed. Its roof, weighing just 97 lbs, can be opened or closed in 20 seconds, even when driving at speeds of up to 50 km/h. And though sadly you won't get to hear it at the auto show, the sound of that V10 is an experience unto itself!