As 2013 becomes nothing more than an interesting (to say the least) memory, I find myself looking back upon the highlights. As I ponder its ups and downs, delayed flights and busted deadlines, one memory keeps popping up as being the greatest, the most exhilarating, one that I would do all over again. And again. And again…
I got to careen through the Austrian and Italian Alps in a Mars Red 1991 Audi UR Quattro.
In my career, I've had the good fortune of driving some exceptional cars including a pair of
Porsche 356
s, some '90s AMG Mercedes cars, and one
1967 Cadillac DeVille Convertible
. I'm quite the fan of the old-school car, be it American or Japanese; however, I will admit to having a strong penchant for the Germans.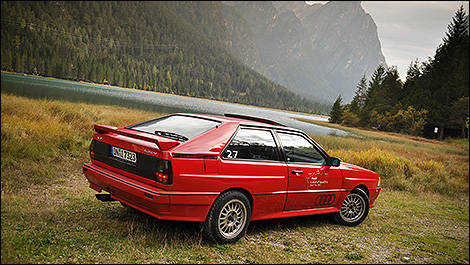 Photo: Mathieu St-Pierre


Land of RS
This Audi event that started in Innsbruck, Austria, for our wave of the 2013 Alpen Tour brought together some of Audi's most sought-after cars, namely the all-new
RS Q3
, RS 5,
RS 6
(my baby!) and RS 7. The icing on the cake (or is that the cherry?) was the subject of this story: the legendary Audi Quattro.
With few cars to drive and many eager auto-journo fingers wanting to grab the keys to the Quattro, I could not be more thankful to my friend Cort at Audi Canada for having secured the keys to the car for us four Canucks who hoped for nothing less than to live this dream we shared.

Old school is the good school
When the time came, I was handed the simple key to door and ignition and immediately felt like I was getting reacquainted with an old friend. You see, my beloved 1992 VW Jetta GTX shares numerous parts and basic technologies with the Quattro, the first of which are the door handles.
Once in the car, my heart melted, my grin widened, and my palms got clammy. My sinuses also reacted: the smells were the same as those found in my Jetta. I cannot explain in better terms what it is I was going through.
Truthfully, I'd driven two UR Quattros in Canada before this one, but both were in rough shape and in various states of tune. The prospect of tackling Alp Mountain passes in a Quattro that was factory maintained put my mind at ease, and possibly raised my confidence to a level that I would normally not allow it to climb to in an older car.
Five alive
I scarcely had the time to really think about it as the moment the turbocharged 2.2L I5 churned to life, my conscious self became possessed with what surrounded me. As I write these words, my skin is crawling, my hairs are standing on end; this was automotive magic.
Slipping the shifter into first gear and easing off the clutch was no more a chore than it is in my Jetta, despite the presence of beefier mechanicals. The first few metres were covered at a reasonable speed, as numerous Audi peeps watched me drive off. The moment I left the parking lot, I put the hammer down.
To expect this car to take off like a V8 R8 would be foolish. My anticipations of what 220 horsepower could do to 1,380 kg (3,036 lbs.) were spot on. The Quattro is far from being blisteringly fast, especially when lined up along side the RS 7 (the 30-year evolution is reality-crushing), but the go is entertaining to say the least, but not as much as the growl emanating from the 5-pot and flowing out the twin tailpipes.
A 5-cylinder engine has a very distinct wale that is neither wide nor deep, but gurgly and unruly. Either way, its song is prettier than Sarah Brightman's…
Another lovely sound, although mostly muffled, was the turbo's whistle. Its spooling music was always welcomed and served as the precursor to the coming of more power. Turbo lag was not as fierce as one might expect which further increased the level of buoyancy in both the car and I.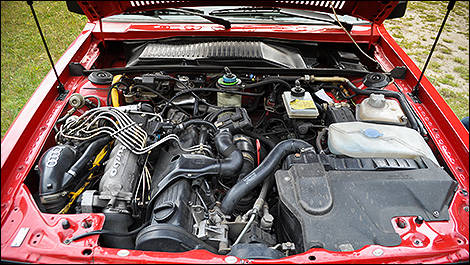 Photo: Mathieu St-Pierre


Rallye prepped
As the 5-cylinder's revs climb in 1st or 2nd gear, so does its nose, lifting from the ground as the weight transfers to the rear with haste. To say that the Quattro is "soft" would be wrong. Remember that this car was in part conceived to tackle the worst roads as a rallye car; therefore, wheel travel was a must.
Despite bodyroll, the Quattro would never lose its grasp of the surface below its rubber unless seriously induced into oversteer with throttle lift-off and some steering action. The car was far more content with being neutral or with a little too much speed, plow conveniently into understeer.
Quattro love
The Quattro's Quattro AWD system delivered exactly what it has always promised. A number of the mountain passes were wet (we even encountered snow), but the Dunlop SP Sport 9000 tires were always being put to good use as power would shuffle front to back.
The 1991 Audi Quattro's brakes were never doubted. In spite of being relatively small in size by today's standards, they never completely faded, at least not while I was driving. By driver No. 3, the Quattro had been pushed very hard climbing above the clouds -- and what goes up, must come down. It was only well within the downhill race that they began smoking, somewhat.
Boxy FTW!
And now, a word on the car's looks: Sublime. On the car's cabin: Perfect. On the scenery: Nice.
Seriously, flared or boxed-out fenders are one sure-fire way to get my attention and to make me whimper. It's no small wonder I slapped WRX sedan front fenders on my WRX station wagon, but this is another story...
In reality, all proportions are period perfect and I'm especially enamored with the 15"x 8" wheels. Mmm, so hot! The sunroof, I would do without…
Enough of that.
Audi Tradition
Manufacturers who make vintage cars available for drives always impress me. The pride in their past demonstrated by these acts of kind generosity are some of the best moments I've ever experienced.
Spending half a day with the Audi Quattro was akin to meeting a life-long hero, one that inspired and gave hope to the world. The Quattro has been one of my heroes for just over 30 years, and I was honoured to make his acquaintance in the Alps.
Photo: Mathieu St-Pierre
2014 Audi RS 7