Hot Rod Lincoln Fetches Highest Price Overall
Famous, fortunate and just plain rich car enthusiasts gathered in Scottsdale, Arizona for the annual Barrett-Jackson classic car auction recently, setting record sales.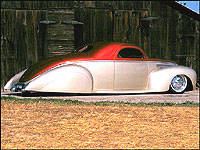 With a 98 percent sales percentage, the 2004 Barrett-Jackson auction in Scottsdale, Arizona saw sales of USD$38.5 million. (Photo: www.barrett-jackson.com)
Last year the record was set at USD$28.5 million but 2004 saw sales of USD$38.5 million, more than a 30 percent improvement.
Another record saw 762 cars and light trucks cross the block during the four-day weekend, with 744 of them sold. This equals an unprecedented 98 percent sales percentage.
"This year's auction saw top prices paid in nearly all categories of cars," commented Jackson. "We exceeded a number of previously established world record prices."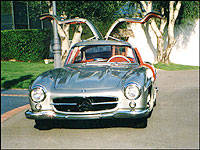 Two 1955 Mercedes-Benz 300 SL Gullwing coupes took second and third spots on the top bid list, at USD$394,200 and USD$367,200 respectively. (Photo: www.barrett-jackson.com)
But that's not the big news to car collectors. A few years ago all witnessed a shift in popularity from highly priced European exotics, in particular Ferrari, to originally specified American muscle cars. While that trend continues, all were astounded at the rise in prices of customized domestic cars, with astronomical prices reached by such collectible mainstays as the Shelby Mustang and Chevy Belair.
Of course, truly collectible cars, whether European, Asian or American, will always fetch a high price, made apparent by two 1955 300 SL Gullwing coupes that placed second and third at USD$394,200 and USD$367,200 respectively. But it took a 1938 Lincoln Zephyr V12 street rod to beat out the Gullwings at an incredible USD$432,000, a record for this category.