Destined to polarize Bentley fans on a whole new level, the brand this week unveiled the EXP 9 F all-wheel-drive luxury SUV at the Geneva Motor Show. Complementing its Continental and Mulsanne lines, the EXP 9 F "could herald a third Bentley model line." Let's hope they change the name!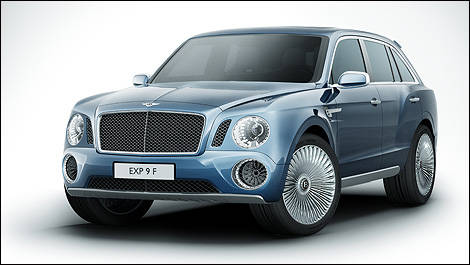 Photo: Bentley
Signature Bentley character cues include the matrix grille, round lamps, and sculptured coachwork. Designers took inspiration from the Blower Bentleys of the 1930s, visible in such details as the daytime running light apertures, which also act a charge cooler air intakes for the 6.0-litre twin-turbo W12, each with a mesh-covered turbine fan design and rifled inner surface finish. The spokes on the 23-inch alloys also harken to the shape of turbine fan blades.
The interior promises contemporary use of touchscreen technology and the traditional handcrafted materials you'd expect, such as silk wool floormats, which reverse to a ribbed saddle leather finish for those moments when you're actually using your Bentley SUV to do something outdoorsy (i.e. never). A cooled champagne compartment graces the back seat, while the lower section of the two-piece tailgate can be used as a viewing bench (for polo, presumably) or picnic table, complete with bespoke picnic hampers.