British automaker Bentley is celebrating its centenary next year, on July 10, 2019 to be exact. The company has decided to mark the occasion in style, more specifically by producing a series of special editions in limited quantities.
First out of the gate will be the Mulsanne W.O. sporting a chassis designed by Mulliner, a renowned chassis maker the history of which has been intertwined with Bentley's for many decades.
If you're wondering where the W.O. letters comes from, they are the initials of the automotive company's founder, Walter Owen Bentley.
The presence of the initials in the limited edition's name is thus a direct homage to Bentley's founder. Even better, as the exterior of the new Mulsanne will be created by Mulliner, tribute is being paid to the last Bentley designed by Walter Owen, the 8L 1930 car that was designed by, you guessed it, Mulliner.
This creation was used by W.O. Bentley himself as his personal vehicle.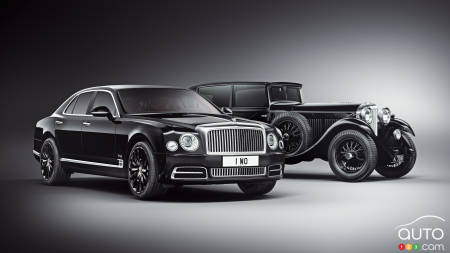 As for the Mulsanne anniversary edition, it will feature visual cues that harken back to the 1930s, not least of which an illuminated cocktail bar done in art deco style. Located between the two rear seats, it will be derived from the styling used in the 1930s-era 8L car.
Weirder still, at the heart of this drinks cabinet sits a piece of the crankshaft used in the Walter Owen Bentley model.
Say again?
It turns out that back in 2006, Bentley bought back the car that had belonged to founder W.O.. While it was being restored, it became clear that the crankshaft would have to be replaced. The original was cut into 100 pieces, one for each of the 100 W.O. limited editions to come. A plaque commemorating the piece's origin will be displayed in the cabinet.
The interior and exterior will also feature Walter Owen Bentley visible in several strategic chosen locations.
The car will be displayed publicly on August 24 as part of events surrounding the Pebble Beach Concours d'Elegance.