In recent days, J.D. Power published its annual list of the most dependable vehicles for 2017; now, it's Consumer Reports' turn to offer up its ranking of the best automotive brands for this year.
The ranking is attained by compiling results of studies looking at road tests, predicted reliability, owner satisfaction, and safety.
For the second consecutive year Audi sits at the very top of the list, while behind it Porsche and BMW overtake Lexus and Subaru; these latter brands round out the top five. The bottom of the list also remains unchanged, with Fiat, Jeep, Mitsubishi, and Land Rover sharing the dubious distinction of occupying the lowest positions once again.
Here's a look at the ranking: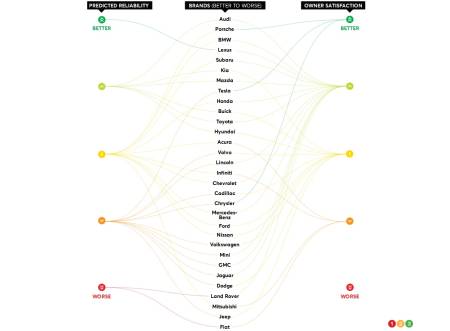 Want to know which models came out on top in each category in the view of the magazine? Here you go:
Subcompact Car:Toyota Yaris sedan
Compact Car:Chevrolet Cruze
Compact Hybrid:Toyota Prius
Sports Car:Mazda MX-5
Midsized Sedan:Kia Optima
Large Sedan:Chevrolet Impala
Small SUV:Subaru Forester
Midsized SUV:Toyota Highlander
Luxury SUV:Audi Q7
Compact Pickup:Honda Ridgeline
For more information, consult the ranking on Consumer Reports.