If there are two collections of letters that make me happy, one is "BMW" and the other is "Spyder." Under its sub-brand BMW I, BMW introduces the i8 Concept Spyder, an open-top two-seater and the third i-model after the i3 and i8.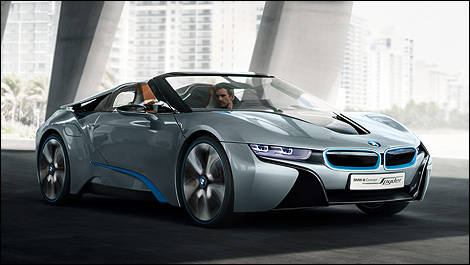 Photo: BMW
Featuring eclectic design cues like its upward-swivelling, windowless doors, the i8 Spyer is based on the company's LifeDrive architecture and powered by a plug-in hybrid eDrive drivetrain that combines a gas-powered engine and electric motor. The lithium-ion battery pack can be recharged in any household socket in less than two hours.
The powerplants combines produce 354 hp, 131 from the electric motor and 223 from the 3-cylinder gas engine. It's enough to propel the i8 Spyder from zero to 100 km/h in five seconds. Top speed is electronically governed at 250.
The Spyder has a slightly shorter wheelbase and overall length than the 2+2 i8, and manages fuel economy figures of 3L/100km in European test cycle.