Last November at the Los Angeles auto show, BMW presented the X7 iPerformance concept, a vehicle that, according to the plan, would presage the arrival of a new large SUV in the German automaker's lineup.
Now, just months later, sketches showing what looks a lot like the future production version of the X7 have surfaced, once again courtesy of a source with access to drawings submitted to the Brazilian National Institute of Industrial Property .
The images of the alleged new X7 reveal an SUV dominated by huge nasal openings that serve as the front grille – although, these seem to be a little reduced in size compared to what we'd seen on the X7 iPerformance concept.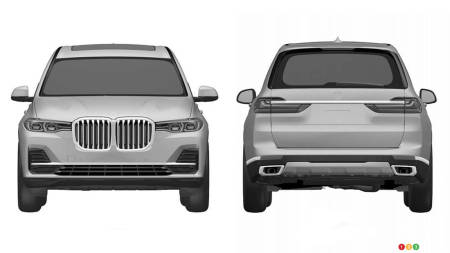 The rest of the design hews pretty closely to that concept, except for some esthetic frills that seem to be lopped off, like the vertical aluminum applications visible on the concept's rear flanks and front bumper.

The headlights look, unsurprisingly, much like those featured on the front of the 7 Series sedan.
Under the hood, we can expect to see that 7 Series sedan's 4.4L twin-turbo V8 abd 8-speed automatic transmission be included in the X7 as well.
In fact, it's safe to assume that many of the mechanical elements of the 7 Series will be lifted for use in what will become the brand's new flagship SUV.
The X7 will be able to accommodate 7 occupants, and its level of equipment, power and refinement should be of a level to allow it to compete with the biggest boys in its class.