When a manufacturer flaunts some sort of engineering technique, gives it a name and pushes this name as a branding, I rarely pay attention.
During a recent press preview of the
2012 Buick Verano
, the brand's new compact entry-luxury sedan, GM quickly pointed out that every Verano benefits from what they call
QuietTuning
. At that precise moment, I was thinking to myself "yeah, whatever."
Once we hit the road, however, the hamster in my head started to run in its wheel again. As I merged on the highway and nailed the throttle, I could barely hear the engine but the tach was indicating 4,500 rpm. A colleague journalist, GM Canada product planner Paul Hewitt and I were engaged in a conversation and no one was shouting. The radio volume was barely turned up but we could hear every lyric, every guitar riff, every percussion.
Hmm… it seems this QuietTuning thingie isn't an illusion after all.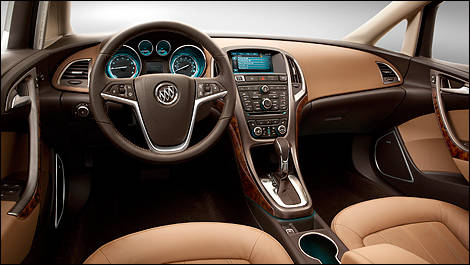 2012 Buick Verano (Photo: General Motors)
Sound-deadening foam is injected into hollow portions of the Verano's body. The steel panel ahead of the dashboard is sandwiched between sound-deadening mats. The inside wheel wells are made with recycled denim that is as durable as conventional plastic ones, but absorbs road noise better. The windshield and side glass are thicker than what is normally used in compact cars. Doors are triple sealed. Brake and fuel lines are isolated.
In short, the 2012 Buick Verano is indeed very quiet on the inside. Ok, it's not as quiet as in a
Mercedes-Benz S-Class
, but we're talking about a car that starts at $22,595.
Obviously, a car's cockpit doesn't need to be as quiet as a tomb inside, and for certain cars, it shouldn't be either. But the Verano is a Buick, a luxury brand that's searching for some breathing room between Chevrolet and Cadillac. Hewitt claimed that the Verano is the quietest Buick ever built, and I now have no reason to doubt that claim.
The Verano is already on sale in Canada, and will no doubt become Buick's bestselling vehicle this year. GM expects the volume seller to be the Verano with the 1SD package which bundles dual-zone climate control, Bluetooth connectivity, fog lamps, a remote starter, an infotainment system with colour touchscreen and a leather-wrapped wheel, all for just under $24,000. The
2013 Acura ILX
and the Chrysler 200 now have some tough competition.