"OOOH! A touch screen!"
The first advertisements for the new touch-screen Blackberry Torch phone were appealing to my inner geek and Star Trek fanatic something fierce. Like a great big 28 year-old kid, I rushed out to get one.
Flashy, sophisticated and high-tech, touch-screen business was new to this Blackberry addict. But old-school interfaces be damned: no longer would I click away on tactile buttons like a sucker. Justin Pritchard was starting his voyage into the modern world of communications from the right pocket of his jeans.
Unfortunately, I'm stuck with the damn Torch for another year or so.
As a relatively new technology for Blackberry, I found the touch-screen Torch quickly became glitchy, often froze up, wouldn't respond, felt unnatural to type on, and exhibited a learning curve before comfortable, easy use ensued.
And the Torch never had the liquid-smooth, lag-free screen-to-screen animation my iPhone-wielding buddies always bragged about. iPhone users, hold your tongues.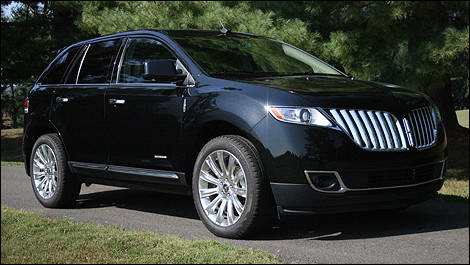 Photo: Lacey Elliott/Auto123.com
Oh, and the Torch gets smudged if you even look at it.
So I'm driving the
Lincoln MKX
last week, and it included the
MyLincoln Touch
and SYNC touch-screen infotainment system. Said touch-screen controls almost everything, from climate to phone to stereo to navigation and even vehicle settings. With only a few stationary buttons, it delivers the same clean, simple and elegant look you'll find on many a touch-phone.
I've spent many hours with
SYNC
in other testers. Learn to talk efficiently with the Microsoft-developed system, and you can navigate all sorts of different functions with a single button press and spoken commands. Pretty slick indeed.
Hell, this Lincoln didn't even have a volume or climate-fan knob. Instead, touch-activated sliders light up as you trace your finger over them to turn things up and down.
But the MKX's MyLincoln Touch interface wasn't as slick as I remembered the SYNC interface having been in the past.
I wanted to fire up the air-conditioned seat. Click the climate control tab. Wait. It loads, slowly, and with a choppy and delayed animation as if the system was too busy doing something in the background to do things smoothly. I hit the 'A/C' button on the seat icon. Nothing happens. Again. Nothing. One more time? Nope.
I'm staring at the screen a moment later, wondering why my perfectly normal finger didn't cause any reaction. The seat button lights up with three blue dots, then two, then one, then none. I had turned it on, then down, then down again, then off. All of that tapping for nothing.
And don't even get me started on trying to type in a navigation destination. Or browse my USB stick full of tunes. Or adjust the interior mood lighting. It was like trying to load a complicated website on a really old computer—laggy, frustrating and unimpressive.
I secretly wished it had all gone as smoothly as the menus on an iPhone. Shhh.
Maybe this Lincoln's system needed a reboot, or an update, or had somehow caught a virus. It was acting like my stupid Torch 6 seconds prior to having its battery yanked and tossed across the office for its third reboot of the day.
And unlike my Torch, you can't simply yank the MyLincoln Touch's battery out and reboot it. At least it didn't blue-screen. And a software update would, likely, fix the issue.
God bless Lincoln for pushing the human-machine interface a little. And making the crossover centre console a less boring place. End of the day though, I think I'd stick with standard heated-seat, volume and track-skip buttons.
Do we need animated screens and sub-menus for the simplest of vehicle functions, anyhow?