A few weeks ago, I blogged about an introspective moment in which I pondered the kind of car I would buy next for my family. I mentioned that I would consider swallowing my ever-manly pride for the first time in my life and spring for a minivan, although I vastly prefer SUVs and crossovers.
I still haven't made the highly anticipated purchase, but I recently got the chance to conduct a test I've been wanting to do forever, one that will help guide my way (away from the minivan, I'd hoped).
And so, my wife, 1-month-old daughter and I went away for the long weekend in a
2011 Ford Edge Limited
. The idea behind the drive was to determine if SUVs and crossovers are appropriate for people in my "situation" (read: young family with one child and lots, and lots of cargo).
My better half, who was in charge of making sure we didn't forget anything, handed me a list of things we'd need for our three-day adventure. So I made full use of the 912 litres of cargo space (which is about average for midsize 'utes) and stuffed the following in the back:
Three reasonably sized bags (two for baby) containing clothes, diapers and "essential" beauty products;
A folding swing with removable seat (for baby);
A small cooler;
A stroller;
A blanket;
A playpen;
And my lady's purse.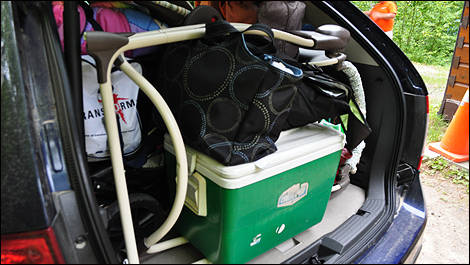 Photo: Marc-André Hallé/Auto123.com
After a lengthy session of trial and error peppered with moments of exasperation, I finally managed to click the hatch shut. I realized what a ridiculous amount of stuff three people needed for a simple three-day getaway. If we had another kid, I would've been in trouble.
Pity, because I loved the 285 hp V6 and its zippy-ness during the occasional passing manoeuvre, plus the all-wheel drive proved quite useful on steep hills. What's more, the average 10.2 litres of fuel burned every hundred clicks seemed reasonable, considering everything I was getting in return.
Throw in some nimble handling, comfy leather seats, a driving position that makes you feel like the king of the road and SYNC/
MyFord Touch
– which is fantastic, by the way – and many a buyer will be convinced. But I wasn't.
As a new father with a budding and soon-to-be-expanding family, the last thing I want to do is play trunk Tetris every time I want to go somewhere. Thankfully, in a few years, said swing and playpen will go into storage and things will be different – until the next one comes along.
However, until then, there are a few options available if I absolutely have to drive an SUV.
I could always choose a bigger vehicle – but do I really need a tank to drive those 50 kilometres to work every morning? Not really, especially knowing that a heavier machine means a beefier engine, which in turn means forking over more of my hard-earned cash to the oil companies.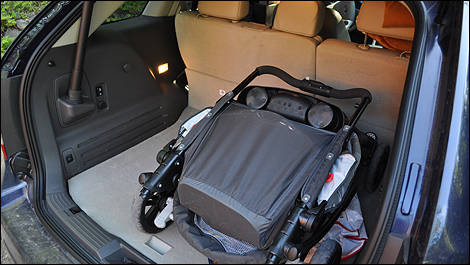 Photo: Marc-André Hallé/Auto123.com
I could also invest in a Thule roof storage case for about $1,000. It won't make the endless packing sessions any easier, but it will save us space on road trips.
So I've come to the conclusion that SUVs are great for young families most of the time, but you'll have to use your imagination and show quite a bit of patience when planning a weekend getaway or going on vacation in order to properly use your limited cargo space.
Minivans will always have the upper hand for 1-child families because parents don't have to rip their hair out trying to figure out how to maximize every last inch of space with the third row stowed and the cargo space opened up to that of a gaping chasm.