In collaboration with Promutuel Insurance
Whether you're actively shopping for the perfect used car or you've already found it, you're bound to have questions about what type of car insurance you need. Here's what you need to know when choosing the right insurance coverage for a used car. We'll also share some helpful information about buying a car second hand.
THE ADVANTAGES OF BUYING A USED CAR
Given that cars lose about a third of their value in the first year after they leave the factory and about half their value after three years, buying a used car can be cost effective. And Quebec is a good place to buy used thanks to its legislation governing the sale of used cars by individuals and dealers. As long as you understand how the law works and take the necessary precautions to avoid any problems, you'll have peace of mind in Quebec. For example, sellers in the province must allow buyers to test drive the car and have it inspected.
INSURANCE POLICIES: USED CARS VS NEW CARS
Is it mandatory to insure a used car? Is the coverage for new and used cars the same? Which should I choose? Is it always cheaper to insure a used car? Lots of people have these types of questions about car insurance while they're making a purchase. Let's take a closer look.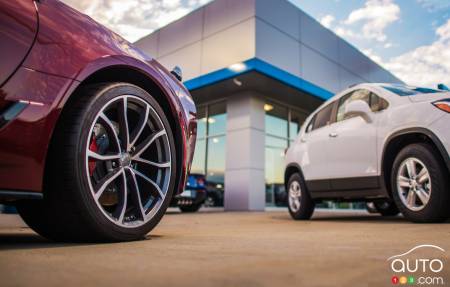 Car insurance in Quebec
Whether your vehicle is new or used, car insurance is mandatory in Quebec. The law says you must have at least $50,000 in civil liability insurance coverage for things like damage to other people's property, such as their house, or for bodily injury to others if you are responsible for a car accident outside Quebec. Usually the amount is $1,000,000, or even higher if you drive in the United States. Contact your representative to learn more.
Other types of coverage are optional and are designed to help you avoid financial loss if your car is damaged. The main types of coverage are:
Collision and upset coverage: This covers damage to your car resulting from a collision if you are responsible for the accident.
Coverage for perils other than collision or upset: This covers things like your vehicle being stolen, damage to the windshield, and damage caused by fire, wind, ice, and water.
Comprehensive coverage: This includes both types of coverage above.
Coverage against specified perils: This is limited to certain specific risks, such as fire and theft.
It's also important to determine your deductible—the amount you must pay if you make a claim to the insurer.
As you can see, you have a choice of many available options.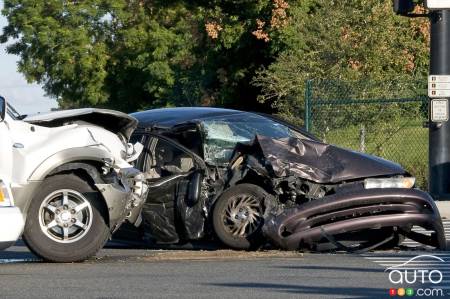 The right coverage for a used car
How can you get an idea of the insurance you need for a used car? A damage insurance representative can, of course, explain things to you but you should also assess the amount of risk you can take on depending on your circumstances and the car you're insuring.
For example, you might want to add some additional protection (e.g., coverage for fire and theft). If your car is old, you might be wondering whether you even need collision and upset insurance. To help you decide, take a look at each type of coverage in turn and then determine which seem necessary to you. How much are you willing to pay for each possible scenario?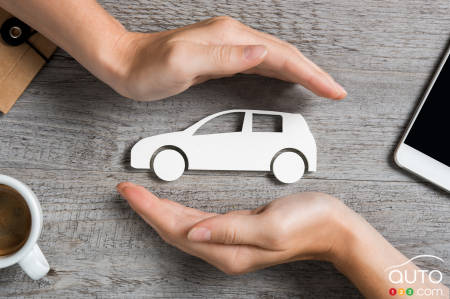 Factors that affect the cost of car insurance
You might think that because an older car is worth less, it'll cost less to insure. You're not wrong, but there's more to it than that. Yes, age does affect the price of car insurance, but so do lots of other things: make, model, equipment, use, where you live, who drives the car, etc., and, of course, the coverage you choose. There are also ways you can lower your premium, such as agreeing to pay a higher deductible in the event of claim. It's up to you to do the math and compare the cost!
Now that you have the answers to the most important questions about car insurance for a used vehicle, you're ready to start shopping for the best insurance policy. You might want to use a car insurance comparison tool to see a number of quotes from different insurers. You can also contact a Promutuel Insurance representative.
Happy shopping!