I've just returned from a trip to Monterey, California where I was fortunate enough to drive the brand new
2014 Chevrolet Corvette Stingray
on some of the best roads I've ever been on -- and I don't mean because the surface was smooth and pretty, I mean because of their challenging aspect and stunning landscape and horizons.
While we didn't get to traverse the Pacific Coast Highway, we did experience some wild mountainous roads with long sweeping turns, tight right-angled corners and endlessly strung together s-curves that had me giddy behind the wheel of the 'Vette.
Why bring all of this up? Well, the Stringray launch coincided with a very important automotive weekend in Monterey, California. The Pebble Beach Councours d'Elegence and RM Auction were just ramping up while we were there, and the cars lining the streets and driving on them was just ridiculous. From Lamborghini Miuras (yes, there was more than one) to a custom-made convertible Cadillac Escalade (a rather unfortunate creation, actually), the vehicles in Monterey were every car-junky's dream come true.
I always say Montreal is a driver's city; we love our cars and we love to drive. We may be aggressive on the road, but that's because we have no patience for those not as enamoured with their time behind the wheel; and I think Californians may just be the same. With such glorious expanses of road at their disposal, how could they not be?
On one section of our drive itinerary, we were asked to take a highway no-doubt used by countless commuters on a daily basis as part of their daily trek to and from work. Lined with gorgeous, older-than-sin trees, undulating through valleys and with glimpses of the Pacific Ocean appearing every now and then, I was in awe. Why couldn't my commute to work look like that?!
The idea of going for a Sunday cruise at home means finding water and trying to follow it for as long as one can in a car. The idea of a cruise in California could mean any number of things, and for that reason alone I think Cali drivers hold the crown when it comes to a love of cars and everything to do with them.
With companies like Tesla and Singer based in California, Mazda Raceway nestled near Monterey, the Pacific Coast Highway stretching its length and events like Pebble Beach… the automotive associations are endless. California may be known for its wine, plastic surgery and Hollywood, but I think it should also be known for its love affair with the automobile.
And for that reason, I also need to devise a plan that has me living in or near Monterey with a view of the ocean, a vintage Mini in the driveway, and access to Mazda Raceway whenever I want to track-test my press vehicles.
A girl can dream, can't she?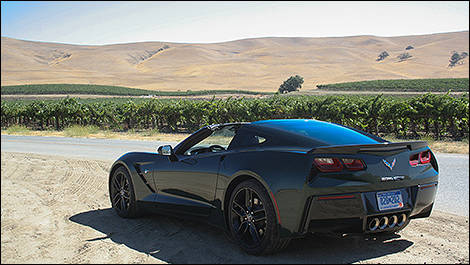 Photo: Miranda Lightstone