car2go announced today that Vancouver, British Columbia, is the first Canadian city selected to launch its innovative mobility service. A newly created company, car2go Canada Ltd., a subsidiary of Daimler North America Corporation, will also be located in Vancouver.
Nicholas Cole, President and CEO of car2go Canada Ltd., and Vancouver Mayor Gregor Robertson made the official announcement this morning to the press as well as to business, political and civic leaders who also took this opportunity to test drive the smart "car2go edition" vehicles and learn about car2go's unique approach to car sharing.
First launched with great acclaim in Ulm, Germany, three years ago, car2go was successfully rolled out a year later in North America in Austin, Texas. To date, a total of more than 35,000 customers have joined the car2go program in Ulm and Austin. There have been more than 600,000 fully automated rental transactions, averaging between 10 and 60 minutes. car2go was also recently introduced in Hamburg, Germany, and becomes operational in Amsterdam in the Netherlands at the end of 2011. As a city whose mandate is to become the world's greenest city by 2020, Vancouver was a natural choice for the expansion of car2go in North America.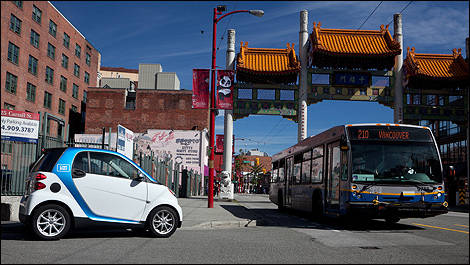 Photo: Mercedes-Benz
"We're very excited that car2go will be making its Canadian debut in Vancouver," said Vancouver Mayor Gregor Robertson. "Our goal is to become the greenest city in the world by 2020, and providing cleaner transportation options is a big part of that. We want to ensure that we provide a full range of sustainable transportation options for our citizens, and car2go's unique car-sharing model is a great fit for Vancouver."
A Different Way to Car Share
car2go uses a "free-floating" model of car sharing, where cars are available throughout the city and can be accessed "on-demand" or reserved up to 24 hours in advance. car2go members can use car2go smartphone apps, the car2go website or a telephone hotline to find the nearest vehicle within the 47-square-kilometre pickup and drop-off area which consists of the following quadrant: the south border follows 41st Avenue to the north border which follows the Burrard Inlet. The east border is Nanaimo Street and the west border is Alma Street.
Members can drive the car when and where they want, and then they can simply leave it in any available "permit only" on-street parking spot in downtown or residential neighbourhoods within the defined business area, or in one of the specially marked car2go parking spaces. In essence, every trip is a one-way rental, with no need to return to the location where the driver picked up the vehicle.
car2go charges customers only for the actual use of the vehicle, with rental periods as short as a per-minute basis. The rental prices in Vancouver are $0.35 CAD per minute, $12.99 CAD per hour and $65.99 CAD per day which includes fuel, parking, mileage, insurance, maintenance, cleaning, GPS navigation and a 24/7 hotline customer support.